2021 National Jamboree Payment Site **CANCELLED**
Event Details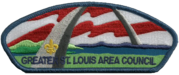 The National Jamboree is Scouting's flagship event and is one-of-a-kind. Join 40,000 Scouts, leaders, and staff at the Summit Bechtel Reserve in West Virginia to experience everything from one of the longest zip lines in North America, a world-class skate park, all-terrain vehicles, treetop canopy tours, rock climbing, patch trading, stadium shows, and much more! Held every four years, the Jamboree is an amazing opportunity for everyone to experience the best of Scouting, all in one place. Your Scout may have been to the Summit Bechtel Reserve, but they have not experienced the awesomeness of the Jamboree.
This registration site it for the collection of payments only. To complete the application for the National Jamboree, please visit https://jamboree.scouting.org/ and follow these steps:
Step 1 - If you don't have a login for my.scouting you will be prompted to create one. You will need to create a new login for your Scout or Venturer.
Step 2 - Complete the Application
Step 3 - When you receive a confirmation email, there will be a link to approve the paperwork. Just click on the link inside the email and check the boxes and click submit.
Step 4 - When the Council accepts your application, you may then begin submitting payments through this site.
When & Where
Adult Leader Registration
Summit Bechtel Reserve
Wednesday 07-21-2021 12:00 AM CT to
Friday 07-30-2021 11:59 PM CT

---
Youth Registration
Summit Bechtel Reserve
Wednesday 07-21-2021 12:00 AM CT to
Friday 07-30-2021 11:59 PM CT