Event Details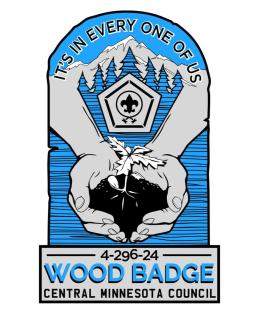 Wood Badge is an advanced leadership training course for Scouting worldwide that will help you in your volunteer service, your career, and in your personal life. Wood Badge is for any registered adult Scout volunteer or professional. It teachers skills necessary to be an effective leader and communicator, helps foster personal growth, and will help strengthen our units.
Course fee is $265 you can pay in full or pay a $100 deposit.
Early bird discounts are available! Register and pay in full by February 14th and receive a $50 discount. Register and pay in full by March 31st and receive a $25 discount.
All fees must be paid by August 28, 2024. There are only (48) participants allowed so sign up now!
Course orientation is likely on Sunday, August 25th, 2024, 7pm at Council office.
The five days of Wood Badge are Friday morning through Sunday September 27-29, 2024 and Saturday and Sunday October12-13, 2024. Attendance all five days is required. The course takes place at Parker Scout Camp near Nisswa, MN, located on North Long Lake. Participants stay in Miller Castle the first weekend and tent camp the second weekend.
If a participant recruits another participant they BOTH will receive a customized course tumbler.
Registration will close on Aug 28, 2024.
We need to have 30 participants by August 28 to be able to hold the course. Please Sign up ASAP!
If a financial hardship is preveting you from registering for the course, please contact us as scholarship money does exist.
When & Where
Wood Badge Weekend 1Parker Scout Camp
Friday 09-27-2024 7:00 AM CT to
Sunday 09-29-2024 5:00 PM CT
---
Wood Badge Weekend 2Parker Scout Camp
Saturday 10-12-2024 7:00 AM CT to
Sunday 10-13-2024 5:00 PM CT