Event Details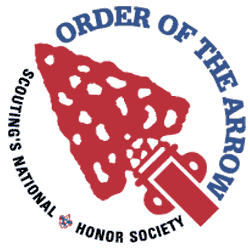 OA Winter Banquet
December 2, 2023
Council Office
this years theme.....
Carnival
Join us for Carvinal
Saturday, December 2nd
Starting at 3:00pm
At the Scout office.
Registration is $10 when registering by 12/1,
and $15 for the evening when registering at the door.
Dress in your favorite carnival attire.
The evening will host games, a silent auction, followed by a meal, wrapping up with a summary of our year and the investiture of our new Lodge Officers and our new Lodge Adviser.
The games & silent auction begins at 3:00pm, and will stop at 5:00pm. Meal (Please sign up to bring something below) will begin at 5:00pm, the silent auctions will be awarded before the evening's ceremony, awards, and investiture, which will wrap up the evening.
Games will begin at 3:00. The games will reward winners with additional tickets, at 5:00pm the 3 top players will have a prize awarded.
All Winter Banquet guests will be given tickets to use at the games.
Additional tickets will be given for each of the below:
-for those who pay either/both their 2023 or 2024 dues
-for those who sign up and bring items for the potluck https://www.signupgenius.com/go/10C0E4BAFAD29A5FBC25-oawinter
-for those who bring items for the silent auction
Questions contact
OA Chief : Theron Johnson
OA Lodge Advisor: Kristopher Bellmont
When & Where
Watkins Service Center
Saturday 12-02-2023
3:00 PM CT to 8:30 PM CT
Past