Dog Pound Spring Get Together
Event Details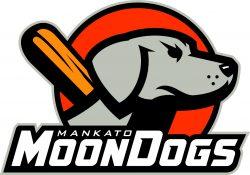 MoonDogs Dog Pound Gathering
Scout Night at the MoonDogs!
Friday, June 17, 2022
Franklin Roger Field, Mankato
$30 per person
5:35pm gates open; 6:35pm first pitch
Twin Valley Council is excited to invite you to our spring get together!
We have reserved the Dog Pound at Franklin Rogers Park in Mankato for an evening of "out of the park" fun! There will be food and refreshments, antics and photo ops! We'll socialize, sit around and unwind in a fun environment. Even thought this spring get together is by special invitation only, space in the Dog Pound is limited to the first 50 people who sign up, so please don't wait until the last minute.
Your $30 fee includes the baseball game, an all-you-can-eat buffet offering stadium style food, all-you-can-drink water/soda, for those over 21 there is free beer (3) with the option of $2 beer after that and of course, Mutnik will be there to entertain and pose for pictures!
This night, June 17th, is our annual "Scout Night With The MoonDogs" event. It will be a perfect time to visit with fellow Scouters and see firsthand the fun our youth have at Scouting events. Our "Scout Night With The MoonDogs" event offers dinner, the game, antics with Mutnik and a chance to pitch a tent and sleep at sleep at the ballpark. This is one of the highlights of our summer programming and kids love telling their friends "they slept at MoonDogs ballpark"!
You are welcome to pitch your tent as well!
See you at the Dog Pound!
When & Where
Franklin Rogers Park
Friday 06-17-2022 5:30 PM CT to 11:59 PM CT
Past