Event Details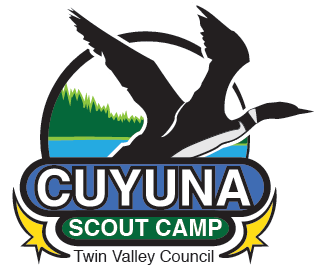 Cuyuna Summer Camp 2021
2021 Camp Dates
June 18-20, 2021 Order of the Arrow Spring Conclave and Ordeal Induction weekend
June 27-30, 2021 Northwoods Webelos Camp
June 30-July 3, 2021 Cuyuna Family Experience
July 4-10, 2021 Week 1 Cuyuna Summer Camp
July 11-17, 2021 Week 2 Cuyuna Summer Camp
July 18-24, 2021 Week 3 Cuyuna Summer Camp
July 25-31, 2021 Week 4 Cuyuna Summer Camp
August 1-7, 2021 Specialty Week - it's new, it's exciting and it's just for you!
Due to the unknown's caused by Covid-19, we have created two different program plans for summer camp 2021. The first is a "Traditional" camp format where Scouts choose the merit badges and activities they wish to take. The second format being the "Pod" format if still required due to Covid-19.
As of this posting, we do not know which option we are able to run based on CDC guidelines and the State of Minnesota requirements. Unfortunately, we most likely will not know until late spring, possibly even after the early bird deadline.
We will continue to communicate updates the best we can with information as we receive it. Our goal is to provide a fun, educational, and safe program for your Scout no matter what format we must run.
Thank you for your understanding and for bringing your troop to summer camp 2021 at Cuyuna.
"Traditional Camp Format"
Due to the success of the Scouts BSA Daytime Summer Adventures in 2020, the Scouts BSA Camping Committee of Twin Valley Council, has changed the format of camp for 2021. Instead of a Scout signing up for a merit badge that they take at the same time every day, we have gone to 100% block scheduling where a Scout signs up for a merit badge all morning, all afternoon, or in some cases all day. We have also set Wednesday up as a "Build Your Adventure" day. On this day, troops/patrols can plan their own program either on camp property or off camp property. All program areas will be open and offering opportunities for Scouts. This new format allows units to better be able to customize camp for their own needs.
"Build Your Adventure Wednesday" will be days designed for units to create the adventure their troop desires with flexible opportunities both in camp or out of camp.
The "In Camp" opportunities include open boating, open swimming, climbing/rappelling, High COPE Course, conservation projects, frisbee golf, fishing, fly fishing, Inter-Troop Arcade Tournaments, open shooting, etc. "Out of Camp" opportunities include trips to Crosslake and the Brainard Lakes area which offer a host of high adventure and unit based activities your troop may wish to participate in (all at an additional cost). Some activities include zip lining, mountain biking, river tubing, horseback riding, go-carts, Paul Bunyan amusement park, wildlife park or the arboretum. Please see Leader Guide for cost and locations of such activities.
"Pod Camp Format"
The Pod Camp Format is another successful way to execute summer camp. In the Pod Method, Scouts are placed in a specific Pod and you spend the week within your Pod. Pods are made up of one or more units based on size. The Pod format has Scouts spending the day working on various skills based on a daily theme. This is a replacement for selecting individual merit badges to complete. Daily themes are: Nature, Scoutcraft, Waterfront, Climbing/Shooting Sports and Handicraft. Various degrees of difficulty are included in activities to encompass all skill levels. This format also allows for units to develop their own specific programming inside each Pod for units wishing to lead programming under their own leadership.
New for 2021 - Week 5 Specialty Camp
We are excited to announce new camp opportunities for Cuyuna 2021! Wilderness Camp, Fishing Week and Mountain Biking Adventure. All three adventures are a week long and designed to give Scouts a more challenging week doing something they love. Due to the nature of these camps, the cost is different than traditional Cuyuna weeks and second week of camp pricing does not apply. With the Specialty Camps, troops do not need to participate as a group. Individual Scouts are encouraged to register. Leadership for each week is provided.
Wilderness Camp
You've been part of Scouting for how many years? You've tied how many knots? You've camped how many times? It's time to test what you've learned.
You're allowed to bring the following ten items: Tarp, Knife, Firestarter (that is not matches or a lighter), Water Bottle, Cooking Pot, Paracord, First Aid Kit, Blanket, Fishing hooks and line, and a Folding Saw.
You need to survive in the wilderness for one week. You will build and sleep in your own shelter. Catch your own food and live off the land. It's time to test your skills. Do you have what it takes to survive?
$240 per Scout
Fishing Week
Is fishing your passion? Is it the thrill of not knowing what you'll reel in? The strategy of finding that perfect spot to cast your lure? This week is for you. You'll take a fishing trip on all three of Camp Cuyuna's beautiful lakes: Pickerel, Command and Goodrich. Take part in a day fly fishing trip on a local stream or lake. If there are four or more people, you can do a Walleye fishing charter on Cross Lake. Participate in a traditional fish fry. And end the week earning your "Complete Angler Award" by earning your Fishing, Fly Fishing and Fish and Wildlife merit badges.
$270 per Scout ($430 with Walleye Fishing Charter trip)
Mountain Biking Adventure Week
If riding the trails, jumping fallen logs and enjoying the view of the backwoods interests you, then check out the Mountain Biking Adventure week. Spend the week mountain biking through the Cuyuna Recreation Area and other biking trails in the area such as Grand Rapids, Chism and Spirit Mountain. Helmets are required and you can either bring your own bike or rent one. Due to the extreme nature of this week, a special "shake down" event will be held in May/June at Mount Kato.
$270 per Scout; additional $200-$250 if renting bike
Whichever specialty camp you choose, you are sure to test your abilities, experience something you've never done before at Cuyuna and will have the time of your life!
Key Contacts
Twin Valley Council Center for Scouting 507-387-3123
Shelley Corry, Twin Valley Council 507-387-3123 or shelley.corry@scouting.org
Ray Brauer, Scout Executive 507-514-3922 or ray.brauer@scouting.org
Steve Knuth, Camp Director 507-525-3149 or sknuth2003@yahoo.co
Tom Stober; Cuyuna Camp Ranger 507-387-0299 or tom.stober@scouting.org
Camp Fees
Cuyuna Summer Camp offers various options for camp fees.
Super Saver rate is for Twin Valley Council units only and is based on popcorn 2020 sales. It is due by May 7, 2021.
Early Bird rate is for any unit attending Cuyuna Summer Camp who does not qualify for the Super Saver rate and is due by May 7, 2021.
Regular price for camp begins May 8, 2021.
We offer a 2nd week of camp discount if registered by May 7, 2021.
Leaders may attend all week or individual days.
Our week 5 Specialty Week has a fee designed just for this spectacular week.
There is camp site fee of $100.
Camperships are available and designed to assist those youth who otherwise could not afford camp. See "Important Forms" below for application.
Important Forms
Health Form 2021 Parts A, B, C Everyone at camp, youth and adult, must have a medical form regardless of length of time spent at camp. Parts A and B are to be completed annually for every BSA member and includes a health history and list of medications taken. Part C is to be completed and signed by a certified and licensed health care professional.
Medication Card List of all prescription medication that is brought to camp.
Authorization for Minor to Handle Firearms and Archery State law requires this form to be filled out in order to participate in any program at the rifle range, shotgun range, BB gun range or archery range.
Unit Swim Classification Record The swim classification of individuals participating in a Scouts BSA activity is a key element of Safe Swim Defense and Safety Afloat. The swim classification test is renewed annually. Although this test can be completed upon your arrival at camp, it may be more useful and time saving to conduct prior to your arrival.
Unit Equipment Checklist This is a list of equipment each troop should bring with them to camp.
Campership Application The campership application is designed to help those youth get to camp who otherwise could not afford the experience. A Scout should first try to "pay their own way" through participating in popcorn sales and other troop fundraisers, however, we don't want money to be a reason a youth does not attend camp. A limited number of camperships are available to help these youth. This form should be submitted by April 15, 2021, and your unit will be informed prior to the May 7, 2021, early bird deadline on the amount of the campership. Camperships are NOT transferable to another Scout.
Cuyuna registration will open January 18, 2021

Campsite Matrix
Apache
(capacity: 5 units, 50 attendees)
Week 1; Cuyu
Week 2; Cuyu
59 SP
13
Week 3; Cuyu
76 MK
19
Week 4; Cuyu
29 MK
24
Blackfoot
(capacity: 3 units, 24 attendees)
Week 1; Cuyu
85 WA
24
Week 2; Cuyu
114 AU
10
Week 3; Cuyu
7 AL
12
Week 4; Cuyu

10 FM
55 FM
7
5
Cree
(capacity: 4 units, 32 attendees)
Week 1; Cuyu
56 FM
10
Week 2; Cuyu
24 MK
16
Week 3; Cuyu
68 SP
11
Week 4; Cuyu
Dakota
(capacity: 5 units, 40 attendees)
Week 1; Cuyu
Week 2; Cuyu
25 NU
40
Week 3; Cuyu

1069 FM
69 FM
6
24
Week 4; Cuyu

1058 SP
58 SP
8
21
Fox
(capacity: 3 units, 24 attendees)
Week 1; Cuyu
108 MIC
11
Week 2; Cuyu
2 NU
10
Week 3; Cuyu
8 MK
9
Week 4; Cuyu
Iroquois
(capacity: 4 units, 32 attendees)
Week 1; Cuyu
4 MK
20
Week 2; Cuyu
95 MK
12
Week 3; Cuyu
89 WA
16
Week 4; Cuyu
Kiowa
(capacity: 3 units, 32 attendees)
Week 1; Cuyu
Week 2; Cuyu
Week 3; Cuyu
Week 4; Cuyu
Mandan
(capacity: 4 units, 32 attendees)
Week 1; Cuyu
Week 2; Cuyu
Week 3; Cuyu
1047 WC
16
Week 4; Cuyu
Navajo
(capacity: 3 units, 24 attendees)
Week 1; Cuyu
Week 2; Cuyu
Week 3; Cuyu
Week 4; Cuyu
Osage
(capacity: 2 units, 16 attendees)
Week 1; Cuyu
Week 2; Cuyu
Week 3; Cuyu
Week 4; Cuyu
Pawnee
(capacity: 3 units, 24 attendees)
Week 1; Cuyu
Week 2; Cuyu
Week 3; Cuyu
Week 4; Cuyu
Sioux
(capacity: 6 units, 48 attendees)
Week 1; Cuyu
Week 2; Cuyu
Week 3; Cuyu
Week 4; Cuyu
Teton
(capacity: 5 units, 40 attendees)
Week 1; Cuyu
Week 2; Cuyu
Week 3; Cuyu
Week 4; Cuyu
Ute
(capacity: 4 units, 32 attendees)
Week 1; Cuyu
Week 2; Cuyu
Week 3; Cuyu
Week 4; Cuyu
LEGEND
No units or participants registered for campsite
Campsite is reserved but has room for additional unit(s)
Campsite has reached unit or participant limit
When & Where
Week 1; CuyunaCuyuna Scout Camp
Sunday 07-04-2021 12:00 AM CT to
Saturday 07-10-2021 11:59 PM CT
---
Week 2; CuyunaCuyuna Scout Camp
Sunday 07-11-2021 12:00 AM CT to
Saturday 07-17-2021 11:59 PM CT
---
Week 3; CuyunaCuyuna Scout Camp
Sunday 07-18-2021 12:00 AM CT to
Saturday 07-24-2021 11:59 PM CT
---
Week 4; CuyunaCuyuna Scout Camp
Sunday 07-25-2021 12:00 AM CT to
Saturday 07-31-2021 11:59 PM CT