Event Details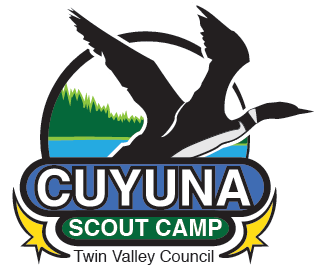 Cuyuna Summer Camp 2023
Week 1: June 25-July 1, 2023
Week 2: July 2-8, 2023 All Girl Week!
Week 3: July 9-15, 2023
Cuyuna Scout Camp, Cross Lake, MN
$360 per Scout $130 per Adult
Summer camp is just around the corner. Here are some tips to help in your planning process.
Registration
All registration needs to be electronic and is due by May 5, 2023.
Please only unit registrations. Individual registrations create additional work for staff.
Remember to save your registration receipt as this is your "ticket" back into the system to enter merit badges.
Super Saver Units are Twin Valley Council units only. 2023 qualifiers are: Troops 4, 8, 24, 42, 58, 68, 69, 76, 84 and 95.
Camp T-shirts must be ordered at time of registration to guarantee a shirt. Limited supply will be available at the Cuyuna Trading Post.
May 6, 2023, the system will automatically update prices to $360 per Scout.
If you have a new Scout join your troop after May 5, 2023, they should use the "New Scout" registration option to give them the Early Bird rate.
All registrations and fee are final except for a very limited number of circumstances and then it is only a partial refund.
"Be Prepared" during the registration process to answer the question "Will your troop need Commissary meals, both lunch and dinner, on Wednesday?"
"Be Prepared" during the registration process to answer the question "How many years attendance at Cuyuna Summer Camp does this Scout have?"
Campsite Reservations
A $100 non-refundable fee is needed to hold your site. C
2024 - Site Reservations for the 2024 Summer Camp will open September 5, 2023. You will not be able to reserve same sight, same week when you leave camp.
Expedition Wilderness - An Older Scout Program
Plans are underway to launch a new Older Youth Program!
This program is being designed by a team of highly skilled outdoors people, including a retired Army Infantryman.
This is not something "you've already done!"
Expedition Wilderness will take place on Thursday and Friday of your week at camp (excludes Week 2). It lasts 24 hours.
Due to the nature of this expedition, it is limited to Scouts age 14+ who have obtained the rank of First Class.
To register for this program please select Expedition Wilderness as a merit badge option.
There are no additional fees for this expedition.
Details will be added as they become available.
Merit Badges Changes
Summer Camp is not a Merit Badge Midway. Scout should have time to enjoy other aspects of camp as well.
Camp Staff and Twin Valley Council suggest no more than 4 merit badges for any Scout, with only 1 merit badge for those participating in Eagle Trail.
Full day merit badges from 2022 have been changed from all day to 2 parts offered on different days (half day each).
If there is more than one part to a merit badge, Scouts will automatically be signed up for both parts when selecting the badge during registration.
Each merit badge now has a "recommended age" added to the merit badge description. This is to aid Scouts in choosing appropriate merit badges.
"Build Your Adventure Wednesdays"
Wednesdays will be days to design your own adventures.
Both In-Camp and Out-of-Camp opportunities are available.
During Week 2, Build Your Adventure will move to Tuesday, July 4th, and programming on July 4th will move to Wednesday.
Please talk to camp staff for ideas in planning your adventure.
There's a great big world out there, venture towards something new and exciting this year! Get out of your comfort zone!
Neckerchief Recognition Program
New for 2023!
First Year Campers will receive the Eagle Trail neckerchief.
Second Year Campers the Paul Bunyan neckerchief.
Third Year Campers means a Northwoods neckerchief followed by 4th Year Campers receiving the Voyageurs.
Scout who are 5 Year Campers+ will receive Star pins indicating years of camping.
Units should "Be Prepared" to enter during the registration process, how many years of Cuyuna attendance each Scout. This does not include staff years.
Cuyuna Staff will have a recognition program as well.
Skilled Trade Specialty Camp
This awesome experience is available the week of July 9-15, 2023, in conjunction with Week 3 of Camp.
Scouts will learn demolition, tile work, plumbing, electrical work and more.
This is real hands-on practical experience while working on actual camp projects.
Scouts will earn portions of three merit badges: Home Repair, Plumbing and Painting.
This experience is not all work! Scouts will also have time to enjoy camp activities such as fishing, the arcade area, swimming, boating and more!
Camp cost is the same as regular camp fees.
This experience is limited to first six participants who sign up. Wait list is available after that.
If your troop is at Cuyuna Week 3, you can camp, eat, etc. with them. Otherwise, you can camp and dine with Camp Staff.
This program is led by Kevin Cole, Twin Valley Council's VP of Properties and owner of Cole Construction of Fairmont.
There is a separate registration for this camp. Please do not register them with your Cuyuna Summer Camp registration.

When & Where
Week 1; CuyunaCuyuna Scout Camp
Sunday 06-25-2023 1:00 PM CT to
Saturday 07-01-2023 10:00 AM CT
---
Week 3; CuyunaCuyuna Scout Camp
Sunday 07-09-2023 1:00 PM CT to
Saturday 07-15-2023 11:59 PM CT