Event Details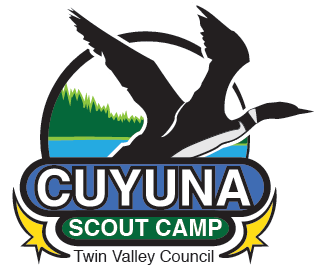 Summer Camp - Cuyuna Scout Camp
Week 1 - June 26 - July 2, 2022
Week 2 - July 3 - July 9, 2022
Week 3 - July 10 - 16, 2022
Specialty Weeks - July 17 - July 23, 2022
The Scouts BSA Camping Committee is excited to bring back the "block method" of programming and "Build Your Own Adventure Wednesdays" for summer camp 2022. After reviewing the feedback from last year, the committee made various tweaks to the program and think this year is going to be a great experience for both Scouts and adults.
Your Week At Cuyuna
Units should plan to arrive at Cuyuna Scout Camp between 1:30-4:30pm on Sunday of their reserved week. Please eat before arriving. Once checked in you will have time set up your campsite, have medical checks and swim checks. A camp wide meal will be served at 6pm followed by an opening campfire program. Following the campfire, join in the ice cream social at the Eagle Trail. Taps will be at 11pm. The excitement and activities of camp can take a physical toll on Scouts and leaders. Cuyuna Staff insists on quiet time between taps and reveille. Scouts should get a minimum of eight hours of sleep each night.
Monday morning 7am begins your week of "block method" programming. Please remember that camp is not a Merit Badge Midway. Although merit badges are an important part of the program, Scouts should have time to enjoy other aspects of camp as well. It is recommended that no more than 4 merit badges for any Scout and only 1 merit badge for Scouts participating in Eagle Trail. One of the tweaks from the Camping Committee is to break full day merit badges into at least 2 session of different days. If more than one part to a merit badge is listed, the Scout must take all parts in order to complete the merit badge.
Program Highlights
Eagle Trail - First Year Camper Program
Special Eagle Trail Outpost on Thursday evening
All Arrow of Light Crossover Scouts attending camp will receive a special Camp Cuyuna Eagle Trail neckerchief
All Arrow of Light Crossover Scouts attending camp will receive $10 "Cuyuna Cash" for the trading post
Great experience for first time campers
Aquatics
Canoeing, Sailing, Swimming, Life Saving, and Kayaking merit badges offered
Safe Swim Defense and Safety Afloat training for adults offered
Mile swim practice times available
Open swim times available
Earn the Stand-Up Paddle Board award
Snorkeling award is also offered
Water Carnival
Earn your Lifeguard BSA certification
C.O.P.E. and Climbing
Climbing, Search and Rescue, and Wilderness Survival merit badge offered
Wilderness Survival outpost
High Ropes Course is available
Open tower time available
Industrial Arts
Welding, Home Repair, and Electricity merit badges offered
Adult volunteers with carpentry skills appreciated
Participate in the camp Frisbee Golf tournament
Nature
Fishing, Fly-Fishing, Environmental Science, Fish & Wildlife Management, Soil & Water Conservation, Nature, Mammals, Reptiles & Amphibians, Weather, and Astronomy merit badges offered
Fishing outpost available
Astronomy outposts available
Scoutcraft
Cooking, Camping, Pioneering, Basketry, Leatherwork, Golf, Indian Lore, Emergency Preparedness, First Aid, Chess, and Wood Carving merit badges offered
Learn interesting techniques that can be used to cook outdoors
Opportunity to play 18 holes of golf
Adults volunteers needed to transport Scouts to golf course
Cuyuna Arcade Tournament
Indian Lore outpost available
Shooting Sports
Rifle, Archery and Shotgun merit badges offered
Scoped .22 caliber rifles
Make your own bow strings and arrows
Open shotgun available
Open archery available
Scouts need to have parent signed archery/firearms permission forms
"Build Your Own Adventure Wednesday"
Back by popular demand, Wednesday's will be days designated for units to "Build Your Own Adventure" with flexible opportunities both in camp or out of camp. See leaders guide for all options.
Camp Fees
Super Saver Units - due by May 6, 2022
Units who have a $375/youth average popcorn sale in 2021. Twin Valley Council units only.
Youth - $275 plus free camp t-shirt and patch
Adult - Full Week $130 plus free camp t-shirt and patch
Early Bird - due by May 6, 2022
Youth - $300
Adults - Full Week $130
Camp t-shirts can be ordered for an additional $10
Regular Price - after May 6, 2022
Youth - $330
Adults - $130
Shirts can be purchased at camp, while supplies, last for $20.
Part-time Adults
Part-time leaders $35 per day
$10 for Steak Fry
When & Where
Week 3; CuyunaCuyuna Scout Camp
Sunday 07-10-2022 1:00 PM CT to
Saturday 07-16-2022 10:00 AM CT
---
Week 1: CuyunaCuyuna Scout Camp
Sunday 06-26-2022 1:00 PM CT to
Saturday 07-02-2022 10:00 AM CT
Past
---
Week 2; CuyunaCuyuna Scout Camp
Sunday 07-03-2022 1:00 PM CT to
Saturday 07-09-2022 10:00 AM CT