Cuyuna Week 5 Special Event
Event Details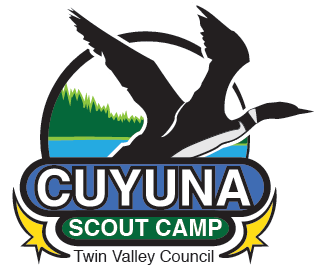 New for 2021 - Cuyuna Week 5 Specialty Camps!
Cuyuna Scout Camp
August 1 - 7, 2021
We are excited to announce new camp opportunities for Cuyuna 2021! Wilderness Camp, Fishing Week and Mountain Biking Adventure. All three adventures are a week long and designed to give Scouts a more challenging week doing something they love. Due to the nature of these camps, the cost is different than traditional Cuyuna weeks and second week of camp pricing does not apply. With the Specialty Camps, troops do not need to participate as a group. Individual Scouts are encouraged to register. Leadership for each week is provided.
Wilderness Camp
You've been part of Scouting for how many years? You've tied how many knots? You've camped how many times? It's time to test what you've learned.
You're allowed to bring the following ten items: Tarp, Knife, Firestarter (that is not matches or a lighter), Water Bottle, Cooking Pot, Paracord, First Aid Kit, Blanket, Fishing hooks and line, and a Folding Saw.
You need to survive in the wilderness for one week. You will build and sleep in your own shelter. Catch your own food and live off the land. It's time to test your skills. Do you have what it takes to survive?
$240 per Scout. This experience is limited to 15 Scouts.
Fishing Week
Is fishing your passion? Is it the thrill of not knowing what you'll reel in? The strategy of finding that perfect spot to cast your lure? This week is for you. You'll take a fishing trip on all three of Camp Cuyuna's beautiful lakes: Pickerel, Command and Goodrich. Take part in a day fly fishing trip on a local stream or lake. If there are four or more people, you can do a Walleye fishing charter on Cross Lake. Participate in a traditional fish fry. And end the week earning your "Complete Angler Award" by earning your Fishing, Fly Fishing and Fish and Wildlife merit badges.
$270 per Scout ($430 with Walleye Fishing Charter trip). This experience is limited to 12 Scouts.
Mountain Biking Adventure Week
If riding the trails, jumping fallen logs and enjoying the view of the backwoods interests you, then check out the Mountain Biking Adventure week. Spend the week mountain biking through the Cuyuna Recreation Area and other biking trails in the area such as Grand Rapids, Chism and Spirit Mountain. Helmets are required and you can either bring your own bike or rent one. Due to the extreme nature of this week, a special "shake down" event will be held in May/June at Mount Kato.
$270 per Scout; additional $200-$250 if renting bike. This experience is limited to 8 Scouts.
Whichever specialty camp you choose, you are sure to test your abilities, experience something you've never done before at Cuyuna and will have the time of your life!
Do not wait to sign up for these camps! We need to know by May 8, 2021, if there is enough interest to move forward with these camps!
Register early ~ Don't delay!
When & Where
Fishing WeekCuyuna Scout Camp
Sunday 08-01-2021 10:00 AM CT to
Saturday 08-07-2021 10:00 AM CT
Past
---
Mountain Biking WeekCuyuna Scout Camp
Sunday 08-01-2021 10:00 AM CT to
Saturday 08-07-2021 10:00 AM CT
Past
---
Wilderness Survival CampCuyuna Scout Camp
Sunday 08-01-2021 10:00 AM CT to
Saturday 08-07-2021 10:00 AM CT
Past