Order of the Arrow Winter Conclave
Event Details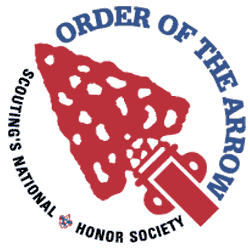 ORDER OF THE ARROW
WINTER CONCLAVE
"THE GATHERING"
Saturday, January 19th - Sunday, January 20th, 2019
Loyola High School
$25 per person
"The Gathering" of OA member at the Winter Conclave will begin on Saturday, January 19, 2019, at Noon. Please meet at Loyola High School (145 Good Counsel Drive; Mankato) prepared for food, fun and fellowship.
Also joining us at "The Gathering" are Blue Ox Lodge and Tetonwana Lodge, so let's be sure to show them a great time!
Planned activities for this event include our traditional trip to Pizza Ranch, MSU Hockey and a LEC meeting. There will also be games, movies, door prizes, more food and lots of fellowship.
Please bring your field uniform, personal gear and sleeping gear.
We'll begin gathering at noon on Saturday and you'll be headed home by 9 a.m. on Sunday.
Cost to attend this full weekend of events is $25 per person. Registration is open until January 16, 2019. After that date you may still attend but must register through Paul Taylor.
Questions please contact Paul Taylor.
When & Where
Loyola High School
Saturday 01-19-2019 12:00 PM CT to
Sunday 01-20-2019 9:00 AM CT
Past