Event Details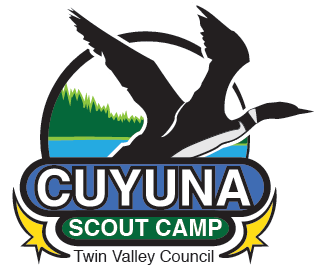 CUYUNA FAMILY EXPERIENCE
Wednesday, June 26 - Saturday, June 29, 2019
Cuyuna Scout Camp Cross Lake, MN
$60 per person
Come visit Minnesota's Northwoods for the Cuyuna Family Experience. This is the perfect time to experience hands-on adventure with everything Cuyuna has to offer.
Maybe swimming, canoeing, and fishing are your interests...
Maybe it's BB Guns, .22's, or archery ....
Or maybe, just maybe, you will want to relax and just let us feed you...
And if none of those are your type of adventure, we also have campfires, climbing, rappelling, skill building, beach volleyball, STEM programs, COPE games, basketry, leatherwork, carving, chess, human foosball, GaGa ball and more!
Cuyuna is a beautiful place to pitch your tent and live rustic for the week. If tenting is not for you - bring your camper or RV to family camp at no additional charge for this experience. No tent? No camper? No problem! Rent one of our four cabins for $75 per night, just bring your own towels and bedding.
The Cuyuna Experience if fun for the entire family. This experience is designed for family members to enjoy camp and do activities together. For aquatic activities, a BSA swim test is required and can be done on location. For shooting range activities, those below 11 years of age can shoot BB Guns, those over 11 years old can shoot .22's. Parent must give permission for children under 18 years of age to shoot firearms or BBGuns. All persons on camp property must complete a Health Form Parts A & B.
This experience is $60 per person; those age 4 and under are free. This includes all meals (8 meals) per person, camping and all program materials. Registration available until June 7, 2019.
Please note that cabins fill quickly, so you may want to register for these asap. Cabin rentals can be done through this website; click on Family Camp or use this link http://campreservation.com/283/Camps/266
For RV or campers please contact Shelley at the Center for Scouting 507-387-3123. She will reserve your site at no additional fee.
Your tent site is automatically reserved when you register for the event. No further action is needed.
What to bring:
Tent, RV/ Camper
Cot/ Sleeping pad/ Sleeping bag or blanket
Swim wear and towel
Personal Toiletries
Change of clothes
Boots or other closed toed shoes; Flip Flops not allowed
Sunscreen and Bug Repellant
Fishing gear and bait (optional)
Water bottle
Class A/B health form
When & Where
Cuyuna Scout Camp
Wednesday 06-26-2019 1:00 PM CT to
Saturday 06-29-2019 9:00 AM CT
Past