2020 Cuyuna Site Reservations
Event Details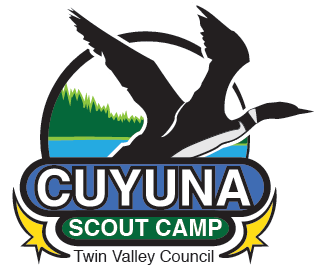 Welcome to the new Cuyuna Camp reservation process!
We are excited to offer this fantastic new system of registering for your 2020 Cuyuna site.
With this being a new process for all of us, it is extremely important that you read and follow the instructions below.
Camp Matrix. It shows you which campsites are available. More importantly this year, it shows you how many attendees and/or units are allowed per site. In 2020 you may find your unit sharing a site with another unit.
Reserving Your Site.
Click the green button for the week you are requesting.
Click "continue as a guest"
You will be asked to estimate the number of youth and adults attending Cuyuna 2020. Even though this is an estimate, it is important to make it realistic. Make the estimate too high to block another unit from sharing the site, and you'll need to pay for those reserved sites come registration time. Make it too low, and the site may be overfilled.
Click the green $100 fee button
Sign in as a guest by entering your name and email
On the next screen it will show you a red "Update Information" button; click it
Select your unit number and enter your phone number
In the campsite preference box, you will see the max number of participants per site. Select your choice.
Click save
Click the red "Book Registration" button
Enter your payment information and complete your transactions
Couple of items to note
The $100 Pre-Registration Deposit is the terminology of the site and not Twin Valley Council. The $100 collected during this transaction is a site fee and is not applied toward your participant registration fees for 2020. This fee is refundable until March 1, 2020. Sites are reserved only with full $100 payment.
The most important detail of this process. Registering for summer camp is now a several step event. It is imperative that units save the email received when selecting your site. This email contains your registration number which will give you the access needed to enter participant names, make payments, select merit badges, etc. Please save the email.
As always, if you have questions or issues please call Shelley
Campsite Matrix
Apache
(capacity: 5 units, 50 attendees)
Week #1
59 SP
10
Week #2
9298 NSS
40
Week #3

76 MK
8 MK
23
14
Week #4
29 MK
37
Blackfoot
(capacity: 3 units, 24 attendees)
Week #1
85 WA
16
Week #2
TVC
8
Week #3
113 AU
17
Week #4
34 CMC
12
Cree
(capacity: 4 units, 32 attendees)
Week #1
10 FM
8
Week #2
24 MK
20
Week #3
68 SP
12
Week #4
39 WA
6
Dakota
(capacity: 5 units, 40 attendees)
Week #1
85 WA
13
Week #2
25 NU
34
Week #3

1058 SP
58 SP
7
25
Week #4
Fox
(capacity: 3 units, 24 attendees)
Week #1
108 MIC
7
Week #2
41 AL
10
Week #3
Week #4
Iroquois
(capacity: 4 units, 32 attendees)
Week #1
4 MK
14
Week #2
95 MK
16
Week #3
89 WA
23
Week #4
20 NU
8
Kiowa
(capacity: 3 units, 32 attendees)
Week #1
Week #2
Week #3
7071 NSS
12
Week #4
Mandan
(capacity: 4 units, 32 attendees)
Week #1
250 NU
16
Week #2
Week #3
69 FM
31
Week #4
Navajo
(capacity: 3 units, 24 attendees)
Week #1
Week #2
Week #3
Week #4
Osage
(capacity: 2 units, 16 attendees)
Week #1
Week #2
Week #3
Week #4
Pawnee
(capacity: 3 units, 24 attendees)
Week #1
Week #2
Week #3
Week #4
Sioux
(capacity: 6 units, 48 attendees)
Week #1
Week #2
Week #3
Week #4
Teton
(capacity: 5 units, 40 attendees)
Week #1
Week #2
Week #3
Week #4
Ute
(capacity: 4 units, 32 attendees)
Week #1
Week #2
Week #3
Week #4
LEGEND
No units or participants registered for campsite
Campsite is reserved but has room for additional unit(s)
Campsite has reached unit or participant limit
When & Where
Week #1Cuyuna Scout Camp
Sunday 07-05-2020 12:00 AM CT to
Saturday 07-11-2020 11:59 PM CT
Past
---
Week #2Cuyuna Scout Camp
Sunday 07-12-2020 12:00 AM CT to
Saturday 07-18-2020 11:59 PM CT
Past
---
Week #3Cuyuna Scout Camp
Sunday 07-19-2020 12:00 AM CT to
Saturday 07-25-2020 11:59 PM CT
Past
---
Week #4Cuyuna Scout Camp
Sunday 07-26-2020 12:00 AM CT to
Saturday 08-01-2020 11:59 PM CT
Past