University of Michigan Webelos Engineering Day
Event Details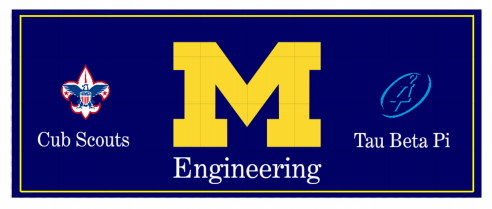 University of Michigan Fall 2023 Webelos Engineering Day
Presented by Tau Beta Pi, Michigan-Gamma
November 19th, 12pm to 5pm
The University of Michigan Engineering Webelos Engineering Day brings together scouts on campus to investigate the importance of STEM careers. Scouts spend the day working collaboratively with University of Michigan engineering students via several hands-on modules. Through conversations with students and team building activities such as the egg drop challenge, scouts can learn about engineering applications from their own first hand experiences. The University of Michigan has a long standing tradition of hosting Webelos Engineering Day to promote engineering to the next generation within a fun, interactive environment.
Details:
The Webelos Engineering Day will take place on Sunday November 19th, 2023. All scouts must be registered on BSA in order to participate. This event will be hosted in the Electrical Engineering and Computer Science Building on the University of Michigan's North Campus (1301 Beal Ave, Ann Arbor, MI 48109). Scout registration opens at 11:30am and the activities begin at 12pm. Modules will run until 5pm with a snack break from 2:00 to 2:30. Snacks (not complete lunches) will be provided and outside food is welcome. Closing remarks will conclude the festivities at 5:15pm. Prior to November 19th, an email will be sent out with all necessary information, instructions, and maps. We recommend parking in lot NC-60(1205 Beal Ave, Ann Arbor, MI 48109).
In order to attend this event, the University of Michigan requires completion of several authorization forms for youth events. Note that these forms are needed in addition to registration. Some of these forms will be completed directly online and do not require any download. Others will require a paper copy to be provided in person at the event. You will be prompted to download a PDF file for those cases. Please go to this link and complete the required forms:
Completed Online:
Participant Conduct
Participant Agreement
Media Release
Pick-Up Authorization
Completed on Paper:
Medical Authorization to Treat (required)
Over-the-Counter Medication Authorization (if applicable)
Self Administration of Medication (if applicable)
Please complete registration for each scout in attendance and the adult who will accompany them.
For any questions or concerns, feel free to email cubscoutsday@umich.edu
We are very excited to be hosting this event and are looking forward to working with everyone!
When & Where
Electrical Engineering and Computer Science Building - U of M
Sunday 11-19-2023
12:00 PM ET to 5:00 PM ET
Past