Spring Conclave - Nataepu Shohpe Lodge
Event Details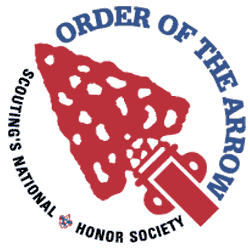 Nataepu Shohpe Lodge Spring Conclave
Where: Gerber Scout Reservation
Who: All Arrowmen of our Lodge
When: May 18-20, 2018
Prepare yourself for a Spring Conclave like no other!
Why: A weekend based around inducting newly elected brothers into our order, serving a host camp in our lodge and connect with all other brothers of our lodge!
The main goal of our weekend is to provide cheerful service to Gerber Scout Camp in preparation for the summer camp season!
We will need all the help we can get, so if camp has ever impacted you, invite your friends and come willing to serve!
Check-in begins at 5:30 pm on Friday May 18 at the main camp pavilion, which is next to the trading post right at the end of the main parking lot. Pre-ceremony check-in ends at 7:45 pm. Pre-ordeal ceremonies begin at 8:15 pm. If you have to arrive later because of travel distance, please email recordkeeper@nslodge.org to let us know when you plan to arrive, then check in at the Dining Hall Friday evening from 10-11 PM with the health officer when you arrive. After check-in closes (after 11 PM), the Health Officer can be found in the Health Lodge to check in with, which is located to the left of the Main Camp Pavillion, or in Centennial Dining Lodge if it's near a meal time.
Please have parts A & B of the BSA Health Form completed and signed before you arrive. We will have blanks at the check-in counter that you can fill out, but only if you are 18 or older, or if your parent or guardian is physically present with you. You do NOT need the part that requires a doctor's signature, you only need parts A & B. You can find the form at http://www.scouting.org/filestore/HealthSafety/pdf/680-001_AB.pdf.
If you are under 18:
Your parent or guardian must sign your health form.

The section "Complete this section for youth participants only" at the bottom of page 1 MUST be filled out, even if your own parent or guardian is picking you up. If the name of the person taking you home is not listed you will not be allowed to leave with them. Anyone under 18 is not permitted to drive to camp, per BSA transportation policies-please plan ahead!

You must check out with the health officer before leaving camp. We are required by law to notify the police if you haven't checked out and we can't find you.
For everyone:
If you use any kind of medication please bring it in a Ziplock bag with your name written clearly on the front.

You will be given further instructions once you've completed check-in

Don't bring too much stuff – you will be busy most of the weekend!

The weekend usually ends around 11 AM Sunday – plan your rides accordingly.
There is an Executive Committee meeting at 11 AM on Sunday. All OA members are welcome to attend. Attendance is required for Lodge position holders and Chapter Chiefs.
What to bring:
You will be involved in service projects around camp. Bring work clothes that you don't mind getting dirty or damaged

Work gloves

Bring your Health form (parts A&B) and medications

Temperature appropriate sleeping bag

Tent

Water Bottle

Bug spray/sunscreen

Rain gear

Flashlight

Full Class A uniform (no MB sash)

Your OA sash (unless you're an Ordeal Candidate)

Temperature appropriate change of clothes

Shower/Toiletry items

Money for trading post items
Additional information for Ordeal Candidates:
Eat before you arrive, as you will not have an opportunity to eat a meal at camp on Friday night.

You will be involved in service projects around camp. Arrive in work clothes that are weather appropriate and that you don't mind getting dirty or even damaged.

You need to stay for the entire Ordeal (Friday Call-out through the end of ceremonies Saturday evening) in order to complete your membership induction

If you have questions, ask another Arrowman in your Troop for advice!

The ordeal induction is for those who have been elected since November 2017
Draft Schedule for the weekend (SUBJECT TO CHANGE)
(refer to printed copy given out at check-in for the final schedule)

Friday
Check-in starts at 5:30 PM
Ceremonies start at 8:15 PM

Saturday
Breakfast at 8:15 AM
Service from 9:00-1:00 PM
Afternoon event 2:00- 4:00
Lodge Officer elections 4:00-500 PM
Dinner at 5:00 PM
Dedication Ceremony at 6 PM
Reflection Bowl 6:15-7:00 PM
Ceremonies start at 7:00 PM
After Ordeal Party!! Beginning at 9:30 PM

Sunday
Breakfast at 8:30 AM
Chapel 9:00 AM
Chapter time after Chapel
Clean up camp 9:30- 11:00 AM
Executive Committee Meeting (all members welcome) at 11:00 AM
Stay up-to-date with Nataepu Shohpe Lodge information at https://nslodge.org
We look forward to seeing you at Conclave!
When & Where
Gerber Scout Reservation
Friday 05-18-2018 5:30 PM ET to
Sunday 05-20-2018 11:00 AM ET
Past
Contact
David Miller
Lodge Record Keeper
recordkeeper@nslodge.org
616.450.8823

Martin Burg
Lodge Advisor
adviser@nslodge.org
616.719.9544

DeVos Family Center for Scouting
3213 Walker Ave NW
Grand Rapids, Michigan 49544
Phone: 616-785-2662