CPR For Pro Rescuers Norwood Hybrid
Event Details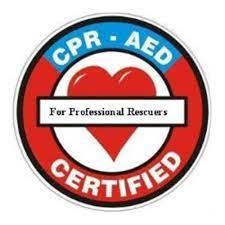 CPR Pro Class description:

The purpose of the American Red Cross CPR/AED for Professional Rescuers course is to train professional-level rescuers to respond to breathing and cardiac emergencies in adults, children and infants until more advanced medical personnel can take over. This course is intended for lifeguards, public safety officer, and anyone else that has a duty to act in an emergency situation. This is the class that will meet the CPR requirement for BSA Lifeguard.
CPR for the Professional Rescuer will now be offered in a Blended-Learning/Hybrid Learning method. This method involves students completing an on-line class AND participating in a live, hands-on skills session. For student to successfully receive a certification, they must follow the following steps:
1. Register, pay, and complete the American Red Cross On-line CPR for the Professional Rescuer class. Follow these steps:
a. Go to https://www.redcrosslearning.com/course/d7aeac00-2619-11e7-ba95-3b1151af8d64 and create a Red Cross On-line account. You will be directed to th eonline portion of the class. YOu will need to pay for this class seperate from the Mayflower Blackpug system registration.
b. Complete this class at least 1 week prior to the skills session.
c. Student MUST bring their course completion certificate to the skills session. Without it, they will not be allowed to participate in the session.
2. Register for the hands-on skills session you want on the council's calendar on their website.
Total cost for the class: $70.00
Online class: $17.00
Skills Session: $53.00

The in person portion will be held at the First Congregational Chruch, 100 Winter Street, Norwood, MA
Pre-registration is required
When & Where
CPR Pro Rescuer Skills SectionFirst Congregational Church
Saturday 02-25-2023
8:30 AM ET to 12:00 PM ET
Past
---
CPR Pro Rescuer Skills SectionFirst Congregational Church
Saturday 03-04-2023
8:30 AM ET to 12:00 PM ET
Past
---
CPR Pro Rescuer Skills SectionFirst Congregational Church
Saturday 04-15-2023
8:30 AM ET to 12:00 PM ET
Past
---
CPR Pro Rescuer Skills SectionFirst Congregational Church
Saturday 05-06-2023
8:30 AM ET to 12:00 PM ET
Past
---
CPR Pro Rescuer Skills SectionFirst Congregational Church
Saturday 06-03-2023
8:30 AM ET to 12:00 PM ET
Past