Polar Cubs Day Camp 2024 (PSC)
Event Details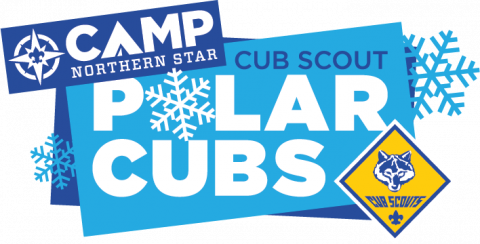 Camp isn't just for the summer! Grab your snow pants and your mittens and come join us for Polar Cubs Day Camp!
Polar Cubs is a full-day experience for all Cub Scouts (Lion – Webelos) where they will get to participate in all sorts of winter activities! Our highly trained and enthusiastic staff will make sure that you and your scout have an amazing time and stay safe while enjoying outdoor activities that are unique to our camps!
Activities include snow tubing/sledding, snowless sledding, broomball, crafts, winter scout skills, kick sledding, and hot chocolate around the fire!
Cold weather won't stop us! Come out to camp when it is below zero and you will earn a special Polar Subs patch!
Siblings are more than welcome to join the fun at Polar Cubs! Children under 5 years old are free, 5 years and older will pay the same scout fee. They will be able to participate in all of the activities with the Cub Scouts!
Special weather statement: As we all know, our winter weather can be wildly unpredictable. However, we are prepared to run a high-quality and safe program for almost all weather conditions, snow, or no snow! When the temperature starts to drop we adjust our program to allow for more indoor activity time to keep everyone safe and warm! In the case that it is deemed to be too cold to run a safe program, we will make direct contact with the attendees by Friday afternoon prior to their scheduled weekend to let them know. We will also continually update our weather hotline 612-261-2448. Additional information is located on the council camping website at http://camp.northernstar.org/winter-weather-policies.
When & Where
Session 1Phillippo Scout Camp
Saturday 01-13-2024
8:30 AM CT to 3:30 PM CT
---
Session 2Phillippo Scout Camp
Sunday 01-14-2024
8:30 AM CT to 3:30 PM CT
---
Session 3Phillippo Scout Camp
Saturday 01-20-2024
8:30 AM CT to 3:30 PM CT
---
Session 4Phillippo Scout Camp
Sunday 01-21-2024
8:30 AM CT to 3:30 PM CT
---
Session 5Phillippo Scout Camp
Saturday 01-27-2024
8:30 AM CT to 3:30 PM CT
---
Session 6Phillippo Scout Camp
Sunday 01-28-2024
8:30 AM CT to 3:30 PM CT
---
Session 7Phillippo Scout Camp
Saturday 02-03-2024
8:30 AM CT to 3:30 PM CT
---
Session 8Phillippo Scout Camp
Sunday 02-04-2024
8:30 AM CT to 3:30 PM CT
---
Session 9Phillippo Scout Camp
Saturday 02-10-2024
8:30 AM CT to 3:30 PM CT
---
Session 10Phillippo Scout Camp
Sunday 02-11-2024
8:30 AM CT to 3:30 PM CT
---
Session 11Phillippo Scout Camp
Saturday 02-17-2024
8:30 AM CT to 3:30 PM CT
---
Session 12Phillippo Scout Camp
Sunday 02-18-2024
8:30 AM CT to 3:30 PM CT
---
Session 13Phillippo Scout Camp
Saturday 02-24-2024
8:30 AM CT to 3:30 PM CT
---
Session 14Phillippo Scout Camp
Sunday 02-25-2024
8:30 AM CT to 3:30 PM CT
---
Session 15Phillippo Scout Camp
Saturday 03-02-2024
8:30 AM CT to 3:30 PM CT