Council Pinewood Derby 2019
Event Details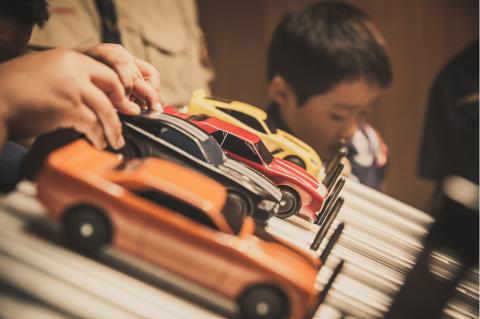 Northern Star Scouting 2019
Do you think you have one of the top pinewood derby cars in your District? Do you want to race and have a blast? On behalf of Northern Star Scouting and the members of PWDRacingLeague.com, we would like to invite you to participate in the Northern Star Scouting Pinewood Derby Championship. Anyone can participate! We are expecting over 200 cars from all over Northern Star Scouting's territory and we hope that you can be one of them!
6201 Bloomington Road, Fort Snelling, MN

$15.00 per Race Participant
$10.00 per Activities-Only Participant
Activities will be offered from 10AM-2PM and include archery and climbing. Activities are included in the race participant fee. All youth participating in archery and climbing will need to fill-out the waiver form included in the attachments.
In order to race at the Northern Star Scouting Cub Scout Championship, the participant must satisfy one of the two membership requirements.
Registered as a Cub Scout at some point since January 1st, 2019

5th Grade Cub Scout who bridged (joined) Scouts BSA since September 1st, 2018
For the Northern Star Scouting OPEN Championship, the participants will be divided by age groups.
Youth under age of 12 for the Open Youngster Division
Between 12 and 18 for the Open Youth Division
Over the age of 18 for Open Adult Division
8:30 AM Lions & Tigers Check In
10:00 AM Wolf & Bear Check-In - Lions & Tigers Race
12:00 PM Webelos I & II, Open Divisions Check In - Wolf & Bear Race
2:00 PM Webelos I & II, Open Divisions Race (After awards ceremony)
NOTE: In fairness to all participants, 2019 Council Derby rules will be followed. Each car will go down the track 6 times. The runs are against the clock, once down each lane of the track. The trophies will be awarded on the basis of the total time for the six runs.
Question please contact Warren Kalsow at 612-801-7827 or pwdracing@yahoo.com
Ben Coder at 612-261-2329 or bcoder@northernstar.org
When & Where
Base Camp - TeamBuilding Center
Saturday 06-01-2019 7:00 AM CT to 4:30 PM CT
Past