Tomahawk Scout Camp 2023: White Pine
Event Details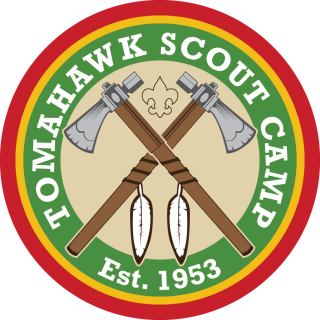 TOMAHAWK SCOUT CAMP
White Pine Camp
Food Service: Outdoor Dining Hall, 3 Meals/Day
White Pine is our newest subcamp and is a great experience for those looking for a smaller camp feel. The areas around White Pine's shoreline have beautiful views, and with hilly terrain the tenting sites are all on raised wooden platforms, giving an experience unique from the other subcamps. White Pine's tenting areas aren't the only unique feature! All meals are served in giant outdoor dining pavilions, located on the North or South end of camp. The staff at White Pine are always willing to put on a show at lunch and dinner! White Pine has 10 campsites, all of which are on the lake!
See our Summer Camp Planning page for more information about planning for camp.
*Linked Troops: Our reservation system is currently set up to only allow same-gender units to book a shared site, but we do allow linked boy and girl troops to share sites. The leader booking the site will need to contact us at info@camptomahawk.org so we can place the linked troops in the same site.
*Are your scouting families interested in joining you at Tomahawk? Why not book a cabin or tent/RV site at Family Island? For more info, please visit the Family Island page: Family Island
Campsite Matrix
White Pine - Aspen
(capacity: 1 unit, 30 attendees)
Week 1
60B SC
17
Week 2
41B TFC
16
Week 4
9B VAC
30
Week 5

14B BAC
14G BAC
12
5
Week 6
539B GEC
14
Week 7
80B PTAC
28
Week 8

9060B G
171B VAC
5
18
White Pine - Balsam
(capacity: 1 unit, 32 attendees)
Week 1
Week 2
292B O
7
Week 4
3233B J
26
Week 5
9113B G
13
Week 6
Week 7
9005B G
16
Week 8
15B VAC
24
White Pine - Birch
(capacity: 1 unit, 30 attendees)
Week 1
9159B F
18
Week 2
165B BAC
32
Week 4
9515B H
9
Week 5
Week 6
9095B G
38
Week 7

9049B H
94B WK
13
12
Week 8
9559B G
27
White Pine - Cedar
(capacity: 1 unit, 32 attendees)
Week 1
Week 2
89B MIC
5
Week 4
99B MAC
32
Week 5
7412G L
10
Week 6
Week 7
9005B G
4
Week 8
516B GEC
13
White Pine - Ironwood
(capacity: 1 unit, 30 attendees)
Week 1
Week 2
9226B G
16
Week 4
9B VAC
10
Week 5
200B WDBC
17
Week 6
9200B L
29
Week 7
84B VAC
23
Week 8
9060B G
25
White Pine - Maple
(capacity: 1 unit, 32 attendees)
Week 1
Week 2
9061B I
8
Week 4
3167B J
9
Week 5
9733B F
22
Week 6
325B IC
6
Week 7

11B CMC
9559B G
9
5
Week 8
9559B G
14
White Pine - Oak
(capacity: 1 unit, 32 attendees)
Week 1
9270B O
26
Week 2
308B MIC
13
Week 4
9083B G
21
Week 5
9146B E
19
Week 6
957B WDBC
13
Week 7

7559G G
9559B G
8
18
Week 8

7559G G
9332B P
6
15
White Pine - Red Pine
(capacity: 1 unit, 60 attendees)
Week 1
Week 2
Week 4
9777B G
20
Week 5

442B CTC
442G CTC
48
6
Week 6
Week 7
9232B F
14
Week 8

3424B M
5424G M
21
10
White Pine - Spruce
(capacity: 1 unit, 32 attendees)
Week 1
Week 2
292B O
36
Week 4
358B PTAC
11
Week 5
91B HT
16
Week 6
Week 7
9005B G
16
Week 8
7559G G
7
White Pine - Tamarack
(capacity: 1 unit, 32 attendees)
Week 1
Week 2
693B HTC
12
Week 4
118B WC
17
Week 5
9412B L
40
Week 6
Week 7
9005B G
31
Week 8
9005B G
9
LEGEND
No units or participants registered for campsite
Campsite is reserved but has room for additional unit(s)
Campsite has reached unit or participant limit
When & Where
Week 1Tomahawk Scout Camp
Sunday 06-18-2023 1:00 PM CT to
Saturday 06-24-2023 9:00 AM CT
Past
---
Week 2Tomahawk Scout Camp
Sunday 06-25-2023 1:00 PM CT to
Saturday 07-01-2023 9:00 AM CT
Past
---
Week 4Tomahawk Scout Camp
Sunday 07-09-2023 1:00 PM CT to
Saturday 07-15-2023 9:00 AM CT
Past
---
Week 5Tomahawk Scout Camp
Sunday 07-16-2023 1:00 PM CT to
Saturday 07-22-2023 9:00 AM CT
Past
---
Week 6Tomahawk Scout Camp
Sunday 07-23-2023 1:00 PM CT to
Saturday 07-29-2023 9:00 AM CT
Past
---
Week 7Tomahawk Scout Camp
Sunday 07-30-2023 1:00 PM CT to
Saturday 08-05-2023 9:00 AM CT
Past
---
Week 8Tomahawk Scout Camp
Sunday 08-06-2023 1:00 PM CT to
Saturday 08-12-2023 9:00 AM CT
Past