Tomahawk Scout Camp 2023: Sioux
Event Details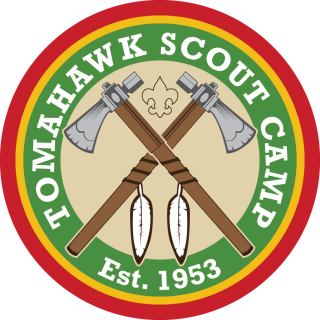 TOMAHAWK SCOUT CAMP
Sioux Camp
If operating under the Patrol Method is what your Troop/Crew is looking for, then Sioux is the place for you! Sioux's campsites are designed with the Patrol Method in mind. Breakfast, lunch, and supper ingredients delivered to campsite and cooked by patrol. Sioux has 15 different campsites most of which are directly on the lake!
See our Summer Camp Planning page for more information about planning for camp.
*Linked Troops: Our reservation system is currently set up to only allow same-gender units to book a shared site, but we do allow linked boy and girl troops to share sites. The leader booking the site will need to contact us at info@camptomahawk.org so we can place the linked troops in the same site.
*Are your scouting families interested in joining you at Tomahawk? Why not book a cabin or tent/RV site at Family Island? For more info, please visit the Family Island page: Family Island
Campsite Matrix
Sioux - Cayuga
(capacity: 1 unit, 40 attendees)
Week 1
9136B F
35
Week 2

7162G G
9162B G
7
24
Week 3
9090B I
15
Week 4
38 MAC
9
Week 5
9419B L
23
Week 6

7144G E
9144B E
5
33
Week 7

3358B J
5358G J
26
8
Week 8
9266B H
9
Sioux - Chickasaw
(capacity: 1 unit, 40 attendees)
Week 1
Week 2
Week 3
Week 4
9072B G
31
Week 5
Week 6
9625B L
47
Week 7
Week 8
Sioux - Iroquois
(capacity: 1 unit, 24 attendees)
Week 1
Week 2
Week 3
Week 4
59B JAC
15
Week 5
55B HAC
14
Week 6
Week 7
Week 8
92B CMC
9
Sioux - Menomonee
(capacity: 1 unit, 32 attendees)
Week 1
9322B P
17
Week 2
9248B O
25
Week 3
9264B O
11
Week 4
3406B J
11
Week 5
9564B E
23
Week 6
9288B O
5
Week 7
9261B P
18
Week 8

7212G H
9212B H
5
14
Sioux - Miami
(capacity: 1 unit, 32 attendees)
Week 1
Week 2

7069G E
9168B E
1
15
Week 3
9297B H
31
Week 4
Week 5

9216B I
3678B J
12
5
Week 6
41B PAC
14
Week 7
9142B F
20
Week 8
9433B G
29
Sioux - Mingo
(capacity: 1 unit, 32 attendees)
Week 1
Week 2
108B WC
20
Week 3
9313B P
19
Week 4
9045B I
22
Week 5
9187B H
12
Week 6

7434G H
9434B H
5
24
Week 7
9692B F
29
Week 8
9218B I
13
Sioux - Mohawk
(capacity: 1 unit, 24 attendees)
Week 1
7136G F
11
Week 2

410B TFC
410G TFC
16
8
Week 3
7297G H
9
Week 4
105B PTAC
13
Week 5
9494B H
25
Week 6
9161B E
17
Week 7
47B GC
14
Week 8
9324B P
42
Sioux - Mohican
(capacity: 1 unit, 40 attendees)
Week 1
Week 2
9017B I
23
Week 3
Week 4
9217B I
7
Week 5
9286B G
28
Week 6

7439G H
9439B H
5
16
Week 7
9031B H
14
Week 8
9110B E
12
Sioux - Oneida
(capacity: 1 unit, 40 attendees)
Week 1
9001B I
11
Week 2
Week 3
Week 4
Week 5
Week 6
Week 7
9487B F
9
Week 8
Sioux - Paiute
(capacity: 1 unit, 40 attendees)
Week 1
23B TFC
50
Week 2
9133B E
11
Week 3
Week 4
110B GC
34
Week 5
9309B P
11
Week 6

7411G F
9411B F
4
31
Week 7
3569B M
11
Week 8
9111B P
53
Sioux - Potawatomi
(capacity: 1 unit, 40 attendees)
Week 5
9131B E
17
Sioux - Quapaw
(capacity: 1 unit, 40 attendees)
Week 1
Week 2
357B GEC
17
Week 3
Week 4

7118G P
9118B P
5
18
Week 5
84B AU
5
Week 6
3001B L
17
Week 7
Week 8
7111G P
21
Sioux - Sac
(capacity: 1 unit, 40 attendees)
Week 1
Week 2
Week 3
Week 4
Week 5
Week 6
Week 7
Week 8
Sioux - Tonkawa
(capacity: 1 unit, 32 attendees)
Week 1
Week 2
96G CMC
12
Week 3
Week 4
7045G I
15
Week 5
Week 6
246B GC
6
Week 7
Week 8
Sioux - Tuscarora
(capacity: 1 unit, 24 attendees)
Week 1
9207B O
12
Week 2
9011B F
10
Week 3
Week 4
Week 5

7733G F
9494B H
3
1
Week 6
3522B J
14
Week 7
Week 8
7324G P
13
LEGEND
No units or participants registered for campsite
Campsite is reserved but has room for additional unit(s)
Campsite has reached unit or participant limit
When & Where
Week 1Tomahawk Scout Camp
Sunday 06-18-2023 1:00 PM CT to
Saturday 06-24-2023 9:00 AM CT
Past
---
Week 2Tomahawk Scout Camp
Sunday 06-25-2023 1:00 PM CT to
Saturday 07-01-2023 9:00 AM CT
Past
---
Week 3Tomahawk Scout Camp
Sunday 07-02-2023 1:00 PM CT to
Saturday 07-08-2023 9:00 AM CT
Past
---
Week 4Tomahawk Scout Camp
Sunday 07-09-2023 1:00 PM CT to
Saturday 07-15-2023 9:00 AM CT
Past
---
Week 5Tomahawk Scout Camp
Sunday 07-16-2023 1:00 PM CT to
Saturday 07-22-2023 9:00 AM CT
Past
---
Week 6Tomahawk Scout Camp
Sunday 07-23-2023 1:00 PM CT to
Saturday 07-29-2023 9:00 AM CT
Past
---
Week 7Tomahawk Scout Camp
Sunday 07-30-2023 1:00 PM CT to
Saturday 08-05-2023 9:00 AM CT
Past
---
Week 8Tomahawk Scout Camp
Sunday 08-06-2023 1:00 PM CT to
Saturday 08-12-2023 9:00 AM CT
Past