Tomahawk Scout Camp 2024: Chippewa
Event Details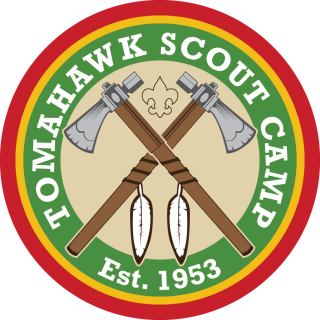 TOMAHAWK SCOUT CAMP
Chippewa Camp
Chippewa is our oldest and largest of the three main sub-camps. If you are looking for that traditional large summer camp feel, then Chippewa is for you. Chippewa has 14 different campsites, most of them directly on a lake! Chippewa operates a Dining Hall.
See our Summer Camp Planning page for more information about planning for camp.
*Linked Troops: Our reservation system is currently set up to only allow same-gender units to book a shared site, but we do allow linked boy and girl troops to share sites. The leader booking the site will need to contact us at info@camptomahawk.org so we can place the linked troops in the same site.
*Are your scouting families interested in joining you at Tomahawk? Why not book a cabin or tent/RV site at Family Island? For more info, please visit the Family Island page: Family Island
If the site chart below looks full and you're interested in joining us this summer, please reach out to us! We have more open sites and can always fit you in.
Campsite Matrix
Chippewa - Arapahoe
(capacity: 1 unit, 40 attendees)
Week 1
9235B O
19
Week 2

9461B H
48B MIC
8
21
Week 3
73B MIC
5
Week 4
9402B H
16
Week 5
9067B I
25
Week 6
9639B L
25
Week 7
3153B L
21
Week 8

9186B L
350B VAC
12
11
Chippewa - Blackfoot
(capacity: 1 unit, 24 attendees)
Week 1
9328B P
16
Week 2
9025B I
16
Week 3
9293B O
17
Week 4
4150B VAC
9
Week 5
9323B P
10
Week 6
9089B G
24
Week 7
7264G O
7
Week 8
9462B H
6
Chippewa - Cherokee
(capacity: 1 unit, 32 attendees)
Week 1
9119B P
7
Week 2
7B VAC
35
Week 3
Week 4
888B MIC
14
Week 5
9184B I
14
Week 6
9071B G
20
Week 7
9503B O
30
Week 8
9171B O
9
Chippewa - Cheyenne
(capacity: 1 unit, 32 attendees)
Week 1
3330B M
12
Week 2
58B TVC
13
Week 3
Week 4
69B GC
12
Week 5
3312B J
7
Week 6
9580B H
15
Week 7
9626B L
22
Week 8
47B PAC
15
Chippewa - Comanche
(capacity: 1 unit, 32 attendees)
Week 1
9054B E
1
Week 2
3141B K
30
Week 3
9138B E
9
Week 4
9458B O
32
Week 5
9323B P
32
Week 6
9401B H
26
Week 7
7626G L
7
Week 8
2568G GAC
10
Chippewa - Crow
(capacity: 1 unit, 32 attendees)
Week 1

7446G O
9446B O
16
11
Week 2
186B GC
17
Week 3
9249B G
19
Week 4

9140B E
408B TFC
9
13
Week 5

7314G P
677B GSLAC
4
32
Week 6

7401G H
9013B I
7
12
Week 7
147B GEC
16
Week 8
9331B N
37
Chippewa - Dakota
(capacity: 1 unit, 40 attendees)
Week 1
499G MAC
7
Week 2
222B BAC
14
Week 3
464B MAC
10
Week 4
9339B N
32
Week 5
9306B P
15
Week 6

1425B NLC
5425G NLC
8
8
Week 7
9132B G
30
Week 8

7106G L
9106B L
6
16
Chippewa - Fox
(capacity: 1 unit, 32 attendees)
Week 1
44B BHAC
6
Week 2
168B GAC
19
Week 3
Week 4
9239G SC
7
Week 5
368B BAC
21
Week 6
9082B I
32
Week 7
33B GAC
9
Week 8
Chippewa - Huron
(capacity: 1 unit, 32 attendees)
Week 1
32B GC
15
Week 2
117B BLC
17
Week 3
Week 4

7205G O
9205B O
4
7
Week 5
854G GSLAC
16
Week 6
9089B G
16
Week 7
498B GC
15
Week 8
4116B VAC
21
Chippewa - Pawnee
(capacity: 1 unit, 24 attendees)
Week 1
9507B G
22
Week 2
815B BLC
18
Week 3
5B GAC
10
Week 4
9414B F
14
Week 5
9325B P
32
Week 6

7069G E
9069B E
6
12
Week 7
14B WC
10
Week 8

7817G H
9817 H
4
8
Chippewa - Santee
(capacity: 1 unit, 32 attendees)
Week 1
9119B P
32
Week 2
560B HAC
26
Week 3
Week 4
9023B O
15
Week 5

677B GSLAC
9325B P
1
4
Week 6
133B TFC
20
Week 7
130B NLC
1
Week 8
7462G H
6
Chippewa - Seneca
(capacity: 1 unit, 40 attendees)
Week 1
Week 2
89B IC
40
Week 3
Week 4
12B BLC
36
Week 5
75B RC
13
Week 6
9082B I
10
Week 7

684G PTAC
684B PTAC
7
33
Week 8
Chippewa - Shoshone
(capacity: 1 unit, 56 attendees)
Week 1
3415B J
38
Week 2
19G GAC
14
Week 3
Week 4
1B VAC
19
Week 5
9151B H
7
Week 6
3374B N
16
Week 7
Week 8
15B CMC
31
Chippewa - Winnebago
(capacity: 1 unit, 24 attendees)
Week 1
Week 2
701B BLC
14
Week 3
Week 4
836B BLC
14
Week 5
230B SHAC
24
Week 6
42B GC
8
Week 7
106B BAC
6
Week 8
LEGEND
No units or participants registered for campsite
Campsite is reserved but has room for additional unit(s)
Campsite has reached unit or participant limit
When & Where
Week 1Tomahawk Scout Camp
Sunday 06-16-2024 1:00 PM CT to
Saturday 06-22-2024 9:00 AM CT
---
Week 2Tomahawk Scout Camp
Sunday 06-23-2024 1:00 PM CT to
Saturday 06-29-2024 9:00 AM CT
---
Week 3Tomahawk Scout Camp
Sunday 06-30-2024 1:00 PM CT to
Saturday 07-06-2024 9:00 AM CT
---
Week 4Tomahawk Scout Camp
Sunday 07-07-2024 1:00 PM CT to
Saturday 07-13-2024 9:00 AM CT
---
Week 5Tomahawk Scout Camp
Sunday 07-14-2024 1:00 PM CT to
Saturday 07-20-2024 9:00 AM CT
---
Week 6Tomahawk Scout Camp
Sunday 07-21-2024 1:00 PM CT to
Saturday 07-27-2024 9:00 AM CT
---
Week 7Tomahawk Scout Camp
Sunday 07-28-2024 1:00 PM CT to
Saturday 08-03-2024 9:00 AM CT
---
Week 8Tomahawk Scout Camp
Sunday 08-04-2024 1:00 PM CT to
Saturday 08-10-2024 9:00 AM CT