Tomahawk Scout Camp 2023: Chippewa
Event Details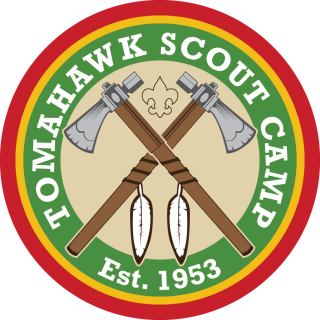 TOMAHAWK SCOUT CAMP
Chippewa Camp
Chippewa is our oldest and largest of the three main sub-camps. If you are looking for that traditional large summer camp feel, then Chippewa is for you. Chippewa has 14 different campsites, most of them directly on a lake! Chippewa operates a Dining Hall.
See our Summer Camp Planning page for more information about planning for camp.
*Linked Troops: Our reservation system is currently set up to only allow same-gender units to book a shared site, but we do allow linked boy and girl troops to share sites. The leader booking the site will need to contact us at info@camptomahawk.org so we can place the linked troops in the same site.
*Are your scouting families interested in joining you at Tomahawk? Why not book a cabin or tent/RV site at Family Island? For more info, please visit the Family Island page: Family Island
Campsite Matrix
Chippewa - Arapahoe
(capacity: 1 unit, 40 attendees)
Week 1
238B SC
29
Week 2
9461B H
12
Week 3

186B MAC
186G MAC
10
3
Week 4
9402B H
20
Week 5
9067B I
19
Week 6
9639B L
28
Week 7
3153B L
26
Week 8
9186B L
8
Chippewa - Blackfoot
(capacity: 1 unit, 24 attendees)
Week 1
9328B P
18
Week 2
9025B I
17
Week 3
9293B O
17
Week 4
54B WC
18
Week 5
4150B VAC
6
Week 6
9089B G
48
Week 7
7264G O
14
Week 8
9462B H
6
Chippewa - Cherokee
(capacity: 1 unit, 32 attendees)
Week 1
9119B P
17
Week 2
7B VAC
36
Week 3
235B GEC
12
Week 4
888B MIC
16
Week 5
9184B I
11
Week 6
9071B G
23
Week 7
9503B O
22
Week 8
9171B O
13
Chippewa - Cheyenne
(capacity: 1 unit, 32 attendees)
Week 1
44B MIC
28
Week 2

3524B J
23B SC
27
5
Week 3
38B TFC
21
Week 4
12B CC
8
Week 5

148B GEC
7148G GEC
19
8
Week 6

7580G H
9580B H
5
20
Week 7
7626G L
8
Week 8
24B VAC
7
Chippewa - Comanche
(capacity: 1 unit, 32 attendees)
Week 1
9054B E
29
Week 2
3524B J
11
Week 3
9138B E
9
Week 4
9458B O
40
Week 5
9323B P
41
Week 6
9401B H
31
Week 7
9626B L
29
Week 8
9449B O
11
Chippewa - Crow
(capacity: 1 unit, 32 attendees)
Week 1

7446G O
9446B O
16
11
Week 2
186B GC
16
Week 3
9249B G
33
Week 4
9140B E
10
Week 5
7314G P
4
Week 6

7401G H
9013B I
11
12
Week 7
130B NLC
32
Week 8
9331B N
20
Chippewa - Dakota
(capacity: 1 unit, 40 attendees)
Week 1
499G MAC
3
Week 2
222B BAC
6
Week 3
464B MAC
14
Week 4
9339B N
30
Week 5
9306B P
14
Week 6

1425B NLC
5425G NLC
11
7
Week 7
9132B G
15
Week 8

7106G L
9106B L
8
21
Chippewa - Fox
(capacity: 1 unit, 32 attendees)
Week 1
Week 2
455B BAC
8
Week 3
Week 4
9239G SC
7
Week 5
69B GC
12
Week 6
9082B I
35
Week 7
33B GAC
11
Week 8
121 OTC
8
Chippewa - Huron
(capacity: 1 unit, 32 attendees)
Week 1
43B MIC
27
Week 2
629B BLC
28
Week 3
70B GEC
10
Week 4
107B AWC
11
Week 5
9B BLC
28
Week 6
Week 7
6114G BLC
17
Week 8

4116B VAC
4116G VAC
23
15
Chippewa - Pawnee
(capacity: 1 unit, 24 attendees)
Week 1
9507B G
13
Week 2
133B TFC
24
Week 3
5B GAC
6
Week 4
9414B F
22
Week 5
9325B P
19
Week 6

7069G E
9069B E
5
5
Week 7
14B WC
15
Week 8
9331B N
15
Chippewa - Santee
(capacity: 1 unit, 32 attendees)
Week 1
9119B P
32
Week 2
56B GC
11
Week 3
Week 4

7023G O
9023B O
2
21
Week 5
Week 6
156G WAC
14
Week 7

7817G H
9817B H
2
8
Week 8
7462G H
8
Chippewa - Seneca
(capacity: 1 unit, 40 attendees)
Week 1
Week 2
Week 3
Week 4
Week 5
Week 6
252B THC
22
Week 7
Week 8
Chippewa - Shoshone
(capacity: 1 unit, 56 attendees)
Week 1

3415B J
5415G J
16
8
Week 2
182B MIC
42
Week 3
Week 4
55B PTAC
15
Week 5
9151B H
13
Week 6
3374B N
24
Week 7
77B GAC
14
Week 8

123B MAC
123G MAC
6
7
Chippewa - Winnebago
(capacity: 1 unit, 24 attendees)
Week 1
106B BAC
8
Week 2
815B BLC
14
Week 3
73B MIC
5
Week 4
208B TR
15
Week 5
103B WC
11
Week 6
42B GC
8
Week 7
14B PAC
12
Week 8
7B TVC
6
LEGEND
No units or participants registered for campsite
Campsite is reserved but has room for additional unit(s)
Campsite has reached unit or participant limit
When & Where
Week 1Tomahawk Scout Camp
Sunday 06-18-2023 1:00 PM CT to
Saturday 06-24-2023 9:00 AM CT
Past
---
Week 2Tomahawk Scout Camp
Sunday 06-25-2023 1:00 PM CT to
Saturday 07-01-2023 9:00 AM CT
Past
---
Week 3Tomahawk Scout Camp
Sunday 07-02-2023 1:00 PM CT to
Saturday 07-08-2023 9:00 AM CT
Past
---
Week 4Tomahawk Scout Camp
Sunday 07-09-2023 1:00 PM CT to
Saturday 07-15-2023 9:00 AM CT
Past
---
Week 5Tomahawk Scout Camp
Sunday 07-16-2023 1:00 PM CT to
Saturday 07-22-2023 9:00 AM CT
Past
---
Week 6Tomahawk Scout Camp
Sunday 07-23-2023 1:00 PM CT to
Saturday 07-29-2023 9:00 AM CT
Past
---
Week 7Tomahawk Scout Camp
Sunday 07-30-2023 1:00 PM CT to
Saturday 08-05-2023 9:00 AM CT
Past
---
Week 8Tomahawk Scout Camp
Sunday 08-06-2023 1:00 PM CT to
Saturday 08-12-2023 9:00 AM CT
Past