Event Details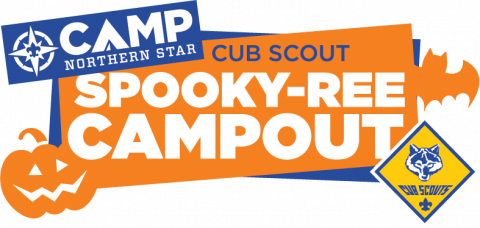 The Spooky-Ree is a fall-themed camporee for Cub Scouts. There will be tent camping at all locations and indoor housing at Stearns and Kiwanis Scout Camp. We will have a Spooky Trail, BB Guns, Archery, Crafts, Smores, Games, and more. There will also be ample time for Pack led activities, like rank advancement and campsite fires. This is an excellent opportunity to get outside this fall with your Pack, learn new skills, meet friends, and have fun!
Siblings 5 years or older may attend but must be registered as paid siblings. One adult is required per 8 Scouts with a minimum of 2 adults per group participating.
Please note that meals are available for purchase in advance within our online registration system or you can bring your own meals.
Cost:
Cub Scout: $33
Sibling: $20
Adult: $15
Locations / Dates:
Phillippo: September 30-October 2
Stearns: October 7-9
Kiwanis: October 14-15
For more information visit camp.northernstar.org or call Cub Camping at 612-261-2303.
When & Where
Spooky-Ree SSCStearns Scout Camp
Friday 10-07-2022 6:00 PM CT to
Sunday 10-09-2022 10:00 AM CT
Past