2019 District Pinewood Derby Finals
Event Details
Lake Minnetonka and Mustang District Pinewood Derby Finals 2019 at Ridgedale Center - FREE!
Saturday, March 16, 2019
Hosted by Pack 283
Sponsored by Village Chevrolet
Derby Location: Ridgedale Center, Minnetonka
FREE for Eighteen Racers per Pack!
Bring A Friend to the Race!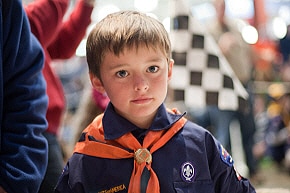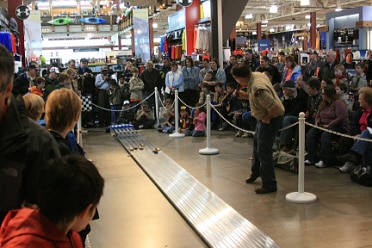 2019 Rules and Regulations
Packs are encouraged to send their top three (3) racers from each rank, Lion Scout – Arrow of Light. That is eighteen (18) racers per Pack! The race will be FREE of charge for these racers.
There will be an open class for any Scout BSA, sibling of Scout racer, or parent that would like to put his car up against other racers in the open class. The cost of this race is $5.00 per car.
There will be a second open class for any Scout from outside the district (Lake Minnetonka AND Mustang) who would like to race his car in the open class. The cost of this race is $5.00 per car.
Each racer must register online using the REGISTER button to the left (above if by cell phone)
Scouts must present themselves in Class A uniform if they plan to race.
All racers will receive a commemorative patch.
Top three (3) finishers in each rack, from each district, will receive a trophy, and an opportunity to race in the Championship Race, following the Tiger Cub award ceremony.
All Scouts may participate in the Council Pinewood Derby on Saturday, June 1, 2019.
This District Pinewood Derby will adhere to the
Official Council Pinewood Derby Rules - 2019
CARS MUST PASS INSPECTION AT LEAST TEN (10) MINUTES PRIOR TO SCHEDULED START OF RACE NO EXCEPTIONS.
"Be prepared": expect to make car adjustments.
The decision of the officials are final in all races.
Derby Location Registration and Fees
ALL CARS MUST BE INSPECTED AND TURNED IN AT LEAST 10 MINUTES PRIOR
Weigh-in Begins 9:00AM
Price
FREE for 18 racers per Pack!
$5.00 for each racer in Open Classes
Location: Ridgedale Center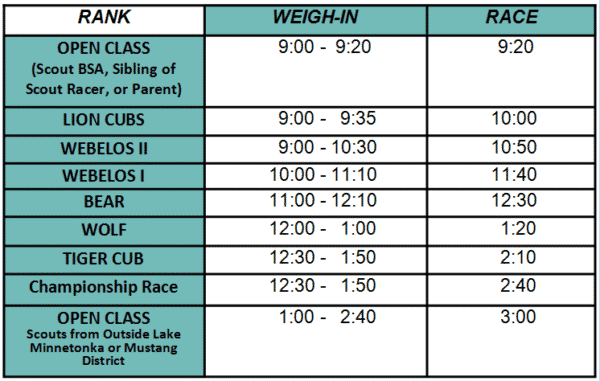 Photos And Statistics From Previous Years
---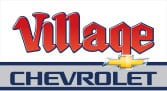 2019 Pinewood Derby Sponsor
When & Where
Ridgedale Center
Saturday 03-16-2019 9:00 AM to 3:00 PM
Contact
Bob Henry
Pinewood Derby Coordinator
Bob.Henry@lmdbsa.org
952-334-7491

Scott Janke
Vice Chairman and Key 5
Scott.Janke@lmdbsa.org
612-367-7662

Northern Star Scouting
6202 Bloomington Rd
Fort Snelling, Minnesota 55111
Phone: 612-261-2300