2018 Maine Youth Law Enforcement Explorer Academy
Event Details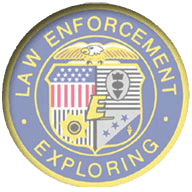 Synopsis
ACADEMY PROGRAM: A comprehensive and challenging experience for high school students ages 14 (and graduated from the 8th grade) through 20 from across the state seriously interested in the field of law enforcement. This program has been designed for students intending on pursuing a career within any branch of law enforcement or military service and will provide them with an overview of modern day police work at the Maine Criminal Justice Academy in Vassalboro. The academy is conducted in a high-stress, paramilitary environment that is full-time residency for the week. Students are requested to be in good physical conditioning prior to the commencement of the program.
ACADEMY DATES: June 18th through the 22nd, 2018
GRADUATION: June 22th 2018 at 1100 hours.
ACADEMY FEES: The fee for the Academy is $325 per person. This fee is to cover, Explorer Post registration, food, lodging, academy shirt, academy hat, and coin.
Auction and Walk-Through: There will be a silent auction beginning at 10:00 a.m. on June 22nd.
(Graduation day) The auction proceeds will go towards partial or full scholarships for the 2019 academy year.
Complete application forms must be received no later than June 1st 2018. Applications can be obtained by contacting Athena Mann at Pine Tree Council Learning for Life, 207-797-5252 ext. 34 or by email at athena.mann@scouting.org or by visiting
https://scoutingevent.com/218-MYLEEA2018
ACCOMMODATIONS: Students are housed in air-conditioned dormitory suites, two to a room and by gender. Requests for specific roommates will not be considered.
REPORT DAY AND TIME: June 18th 09:00AM at the MCJA. Cadets are expected to report to the program on Monday in business attire only. Explorer T-shirt and khaki pants are to be worn to classes through the duration of the program. Students are required to bring all items as listed in a separate attachment.
HEALTH / MEDICAL INFORMATION: All applicants MUST be in good physical health and must submit a standard medical examination form completed by a doctor. These forms are enclosed in this packet and must be signed by a parent or guardian. Cadets are expected to, at a minimum, be able to run one mile in under ten minutes and complete 25 push-ups and sit-ups non-stop. Failure to meet physical fitness standards may result in dismissal from the program—cadets will be administered a fitness assessment at the beginning of the program.
CURRICULUM: Will consist of orientation, class work, hands-on practical exercises, drill and ceremony and physical exercise. See attached tentative schedule.
ACADEMY STAFF: The academy will be staffed by full-time, certified state, county and municipal police officers.
Curriculum may include:
History of the Police*Police Ethics and Moral Dilemmas*Use of Force*Criminal Law*Defensive tactics and handcuffing*OUI Investigation*Crime Scene Investigation and evidence based evidence collection*Interview and Interrogation*Law Enforcement hiring process
When & Where
2017 Maine Youth Law Enforcement Explorer AcademyMaine Criminal Justice Academy
Monday 06-18-2018 9:00 AM ET to
Friday 06-22-2018 11:59 PM ET
Past