2021 PTC Day Camps and STEAM Camp for Cub Scouts
Event Details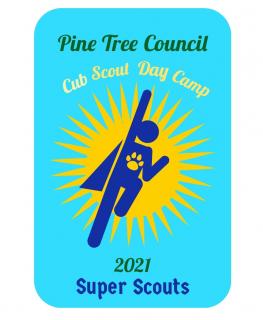 Day Camp is a youth's first major experience in the Scouting Program with their peers, under the guidance of trained and caring adult volunteer leaders. Every Pack and Scout is encouraged to attend day camp this summer. Come along this summer and enjoy all that day camp has to offer: ADVENTURE, GROWTH, AND FUN for all Cub Scouts trekking the trail towards becoming a future Boy Scout.
Pine Tree Council offers 4 weeks of Traditional Day Camp and a week of STEAM Camp for Cubs!
TRADITIONAL CUB CAMPS
Camp Nutter (Acton) - July 12-16
Camp Hinds (Raymond) - July 19-23
Camp Bomazeen (Belgrade) - July 26-30
Camp Gustin (Sabattus) - August 2-6
Cub STEAM Camp
Camp Nutter (Acton) - August 2-6
Science, technology, engineering, arts and math are exactly what you will see and do at STEAM Camp! This week-long hands on program is sure to ignite your excitement for the world of STEAM.
At STEAM Camp, boys and girls can work in teams, meet new friends and perform exciting hands-on experiments that make science, technology, engineering, art, and math come alive.
ALL INCOMING TIGERS MUST HAVE A PARENT OR GUARDIAN WITH THEM DURING CAMP
**Reminder- we need lots of adult volunteers to help run our day camps, and any adult who is available to help at all week at camp, will receive $100 off the cost of camp for their child(ren). For more information on volunteering at camp, email Leah Barry at leahbarry@ptcbsa.org **
When & Where
Camp Nutter DaycampCamp Nutter
Monday 07-12-2021 8:15 AM ET to
Friday 07-16-2021 4:30 PM ET
---
Camp William Hinds DaycampCamp William Hinds
Monday 07-19-2021 8:15 AM ET to
Friday 07-23-2021 4:30 PM ET
---
Camp Bomazeen DaycampCamp Bomazeen
Monday 07-26-2021 8:15 AM ET to
Friday 07-30-2021 4:30 PM ET
---
Camp Gustin DaycampCamp Gustin
Monday 08-02-2021 8:15 AM ET to
Friday 08-06-2021 4:30 PM ET
---
STEAM Camp at Camp NutterCamp Nutter
Monday 08-02-2021 8:15 AM ET to
Friday 08-06-2021 4:30 PM ET