Event Details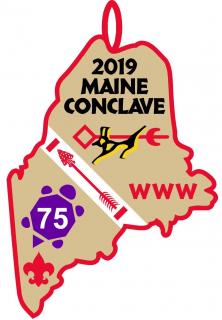 2019 Maine Conclave
Madockawanda and Pamola Lodges invite Arrowmen from across Northern Section NE-1 to join in training and fun. Maine Conclave is a joint hosted event by Madockawanda and Pamola Lodges September 27-29, 2019 at Camp William Hinds in Raymond, ME.
This first of its kind event in Maine will start with LLD style trainings for all brothers, Adults and Youth alike. Learn the useful skills applicable to your units from our Section Officers! After learning new skills, relax and have fun during afternoon program. Drumming, ceremonial dance, tomahawk throwing, history of the lodges, patch trading. Bring your favorite Sport Teams' apparel, High School to Professional, for after dinner Tailgate and Game Night.
Help celebrate Madockawanda Lodge's 75th Anniversary while enjoying fellowship and fun at this special co-lodge event, unifying Maine. Deadline to register is September 23rd, See you there!
When: September 27-29, 2019
Where: Camp William Hinds, Raymond, ME
Who: All Arrowmen!
Adviser Track (Adults)
Block 1- Council and District Relations
Block 2- Adult Roles in the OA
Block 3- Social media use in the OA
Block 4- Mentoring, coaching, and Communicating
Leadership Track (Youth)
Block 1- Recruiting Allies
Block 2- Synergy and Problem Solving
Block 3- Empower the Team
Block 4- Small Lodge Administration
Arrowmen Track (Youth and Adults)
Block 1- Terminology in the OA
Block 2- OA/Troop Relations: OA Reps
Block 3 - Beyond the Lodge: OA High Adventure
Block 4- Training Elangomats
When & Where
Camp William Hinds
Friday 09-27-2019 6:30 PM ET to
Sunday 09-29-2019 12:00 PM ET
Past