OA Vigil (LODGE MEMBERS ONLY)
Event Details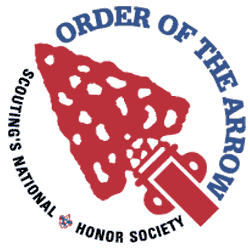 Order of the Arrow
2022 VIGIL
October 29-30, 2022 @ QSR
Alertness to the needs of others is the mark of the Vigil Honor. It calls for an individual with an unusual awareness of the possibilities within each situation. The Vigil Honor is the highest honor that the Order of the Arrow can bestow upon its members for service to lodge, council, and Scouting.
Lodge Member: $15
Vigil Candidates: No Fee
Last day to register online - Friday 10-21-2022
Registration covers meals ~ ~ ~ please provide us any food allergies on the registration information.
Please Use BEST phone/email so contact info may be updated!
When & Where
Quivira Scout Ranch
Saturday 10-29-2022 8:00 AM CT to
Sunday 10-30-2022 11:30 AM CT
Past