WB/HP VIRTUAL District Pinewood Derby
Event Details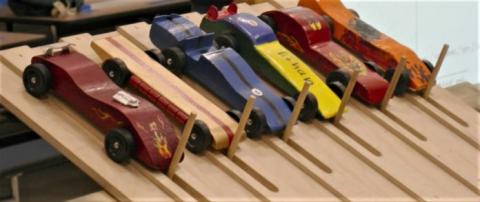 WB/HP VIRTUAL
DISTRICT
PINEWOOD DERBY!
SATURDAY, MAY 2nd, 2020
BSA Quivira Council Office
3247 N. Oliver AVE, Wichita, KS 67220
Due to current restrictions, the 2020 WB/HP District Pinewood Derby will be streamed online for families to watch from home! This is for the top racers of each pack in the WB & HP District. One boy and one girl of each rank (Lion, Tiger, Wolf, Bear, Webelos, Arrow of Light) from each pack are eligible to race against others of their rank. The winners of each rank will receive a trophy!
April 27th - 30th Car drop off by appointment at the Scout office**
8:30 to 9:00 Go Live online, announce any updates/changes
9:00 to 9:10 Welcome and Explanation of event
9:10 to 12:00 Pinewood Derby Racing
TBD Awards Ceremony
$7 if registered before April 25th. Last Day to Register: Fri. Apr. 25.
Registration? Pre-Registration is required on Black Pug.*** We will not be taking walk-ins for this event . Registrations and payments for all Quivira Council events are now online, and this registration is available through:
https://quivira.org/camping-with-quivira/camporees-and-cub-weekends/ link.
Make sure you select rank based on year in school.
Liability, Sickness and Accident Insurance are provided for all registered members of the Quivira Council.
For questions or more information, please contact:
Jeremy Baker 316-303-4149 or Jeremybaker747@gmail.com
Mindy Harris 316-491-7773 or Mindy.Harris@scouting.org
*This event may continue to change based on recommendations from
the CDC, State of Kansas and Council Health Advisors. Please
understand Council and District members will make everyone's safety
our #1 priority.
**Schedule will be sent to Pack Cubmasters upon registration, before the drop off week.
***Black Pug questions – Candi Chase, Candice.chase@scouting.org
When & Where
Koch Scout Service Center
Saturday 05-02-2020 7:30 AM CT to 12:45 PM CT