Event Details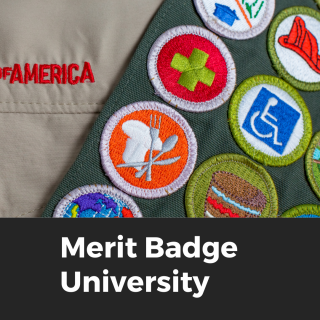 Dellaykee District Merit Badge University
Saturday, January 29, 2022
Location: St. John's Church in Guttenberg, IA
Cost: $5.00
Please bring packed lunch.

Check-in: 8 a.m.
Classes begin: 9:00 a.m.
Lunch: 11:30 a.m.- 12:30 p.m.
Classes end: 3:00 p.m.
Masks & Social Distancing are encouraged.
Please talk with your Scoutmaster before signing up! Your Scoutmaster needs to sign-off on your blue card for each merit badge.

Merit Badges Being Offered:
Chemistry

Maximum 15 participants
Pre-requisites: #1c, 2b, 3 bring photos/videos of caresian diver, 4a w/ an adult, 6b, 7

Citizenship in Society

Maximum 15 participants
Age Requirement: 15 years or older

Citizenship in the World

Maximum 15 participants
Age Requirement: 13 years or older

Digital Technology

No Maximum
Pre-requisites: #6 (3 parts) and Cyber Chip

Fire Safety

Maximum 18 participants
Pre-requisites: #6a. #7. #9. #12.

First Aid

Maximum 20 participants
Pre-requisites: Bring personal First Aid kit

Genealogy

No maximum
Pre-requisites: #3, 4b, 5
Scouts must have work, evidence, photos, and/or Scoutmaster signature indicating that prerequisites have been completed. Scouts should have also read and brought with them the merit badge book for the class they are attending. A print out of the workbook pages and/or a notebook with a pen/pencil is recommended for all classes.
When & Where
St. Johns Lutheran Church
Saturday 01-29-2022 8:00 AM CT to 3:00 PM CT