2024 - Scouting 4 Eggs Presented by Caterpillar - Adult Easter Egg Hunt
Event Details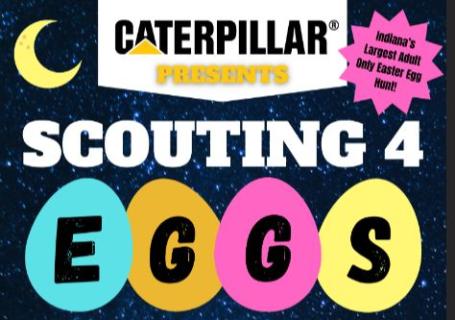 Let's have fun like the kids do!! The 6th Annual Scouting 4 Eggs Adult Easter Egg Hunt is a GO! This adult only hunt will take place on Saturday, March 23rd, 2024 at Franklin L. Cary Camp.
30,000 EGGS! BIGGER HUNT ZONE! MORE FUN!!!
While registration is open to the public, max participants will be 1,500-2000 adults and pre-registration only; no walk ins. Event capacity will be confirmed closer to the event. $25/person.
Shuttles from Faith Church East will begin running at 6 PM. There will be no parking at Cary Camp. Hunting will begin at sunset. Please do not arrive just before sunset in case the sunset allows us to start a few minutes early. Shuttles will begin returning hunters to their vehicles approximately 30 minutes after the start of the hunting.
About 3,000 prizes to be given out including a chance to win sports tickets/memorabilia, artwork, gift cards, big screen tv, and more amazing prizes.
We will have a photo booth, Easter-inspired costume contest, Easter Bunny, yard games, and much more!
Glow sticks will be on sale to brighten up the night! FREE SMORES for everyone! The campfire rings will be back so bring a lawn chair if you want to enjoy sitting around the fires.
Don't forget your flashlight and closed toed shoes.
Like our event on Facebook to see event updates and prizes.
When & Where
Saturday NightFranklin L. Cary Camp
Saturday 03-23-2024
6:00 PM ET to 11:00 PM ET