Lange Innovation Center -- Day Pass
Event Details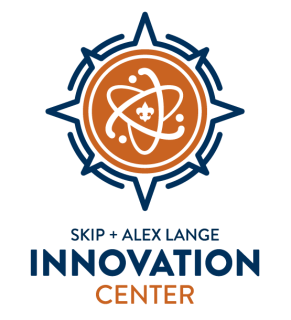 The Skip + Alex Lange Innovation Center at Camp Belzer features activities for the whole family to enjoy.
MakerSpace with Lego Building, 3D printers and Glowforge
DiscoverySpace with robots, coding, and drones
AdventureSpace including climbing wall, SkyTrail, and outdoor Adventure Playground (weather permitting)

SkyTrail Participants must be at least 48" tall
Recommend specific reservation time for SkyTrail to minimize wait.

LaserShot Virtual Hunting Simulator for firearms safety and skill training

Recommend specific reservation time for LaserShot Virtual Hunting Simulator to minimize wait.

Indoor Archery (intermittent availability)
Family Games including:

Pickleball
Gaga Ball
Velcro Dart Balls
And many, many more
Open Saturdays:
February-11, 18, 25 March- 4, 11, 18, 25 April- 1, 8, 15, 22, 29 May- 13, 20, 27
Group rates available for 10+ participants. Call 317-813-7125 for information.
When & Where
Skip + Alex Lange Innovation Center
Saturday 09-30-2023
10:00 AM ET to 4:00 PM ET
---
Skip + Alex Lange Innovation Center
Saturday 10-07-2023
10:00 AM ET to 4:00 PM ET
---
Skip + Alex Lange Innovation Center
Saturday 11-04-2023
10:00 AM ET to 4:00 PM ET
---
Skip + Alex Lange Innovation Center
Saturday 11-11-2023
10:00 AM ET to 4:00 PM ET
---
Skip + Alex Lange Innovation Center
Saturday 11-18-2023
10:00 AM ET to 4:00 PM ET
---
Skip + Alex Lange Innovation Center
Saturday 11-25-2023
10:00 AM ET to 4:00 PM ET
---
Skip + Alex Lange Innovation Center
Saturday 12-02-2023
10:00 AM ET to 4:00 PM ET
---
Skip + Alex Lange Innovation Center
Saturday 12-16-2023
10:00 AM ET to 4:00 PM ET
---
Skip + Alex Lange Innovation Center
Saturday 12-23-2023
10:00 AM ET to 4:00 PM ET
---
Skip + Alex Lange Innovation Center
Saturday 12-30-2023
10:00 AM ET to 4:00 PM ET
---
Skip + Alex Lange Innovation Center
Saturday 03-11-2023
10:00 AM ET to 4:00 PM ET
Past
---
Skip + Alex Lange Innovation Center
Saturday 03-18-2023
10:00 AM ET to 4:00 PM ET
Past
---
Skip and Alex Lange Innovation Center at Camp Belzer
Saturday 03-25-2023
10:00 AM ET to 4:00 PM ET
Past
---
Skip and Alex Lange Innovation Center at Camp Belzer
Saturday 04-01-2023
10:00 AM ET to 4:00 PM ET
Past
---
Skip and Alex Lange Innovation Center at Camp Belzer
Saturday 04-08-2023
10:00 AM ET to 4:00 PM ET
Past
---
Skip and Alex Lange Innovation Center at Camp Belzer
Saturday 04-15-2023
10:00 AM ET to 4:00 PM ET
Past
---
Skip + Alex Lange Innovation Center
Saturday 04-22-2023
10:00 AM ET to 4:00 PM ET
Past
---
Skip + Alex Lange Innovation Center
Saturday 04-29-2023
10:00 AM ET to 4:00 PM ET
Past
---
Day PassSkip + Alex Lange Innovation Center
Saturday 05-06-2023
10:00 AM ET to 4:00 PM ET
Past
---
Skip + Alex Lange Innovation Center
Saturday 05-13-2023
10:00 AM ET to 4:00 PM ET
Past
---
Skip + Alex Lange Innovation Center
Saturday 05-20-2023
10:00 AM ET to 4:00 PM ET
Past
---
Skip + Alex Lange Innovation Center
Saturday 05-27-2023
10:00 AM ET to 4:00 PM ET
Past
---
Skip + Alex Lange Innovation Center
Saturday 08-05-2023
10:00 AM ET to 4:00 PM ET
Past
---
Skip + Alex Lange Innovation Center
Saturday 08-12-2023
10:00 AM ET to 4:00 PM ET
Past
---
Skip + Alex Lange Innovation Center
Saturday 08-19-2023
10:00 AM ET to 4:00 PM ET
Past
---
Skip + Alex Lange Innovation Center
Saturday 09-02-2023
10:00 AM ET to 4:00 PM ET
Past
---
Skip + Alex Lange Innovation Center
Saturday 09-16-2023
10:00 AM ET to 4:00 PM ET
Past