Lange Innovation Center Merit Badge Classes
Event Details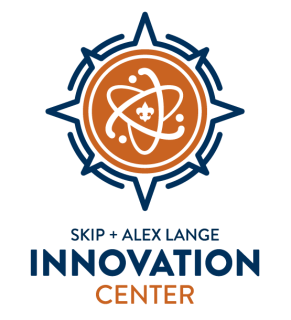 Skip and Alex Lange Innovation Center Merit Badge Series
Every Month we will offer 1-2 different merit badges. Most merit badges will be offered Wednesday evenings and are broken up into two sessions.
You must attend both sessions to receive credit for the completed the merit badge.
Cost
$25 - per Scouts BSA youth ages 10-17 (plus cost of materials if required)
March:
Citzenship in the Nation (March 8th & 22nd)
Scholarship Merit Badge (March 8th & 22nd)
April:
Citizenship in the World (April 12th & 26th)
Prerequisites-
b. Using resources such as major daily newspapers, the Internet (with your parent's permission), and news magazines, observe a current issue that involves international trade, foreign exchange, balance of payments, tariffs, and free trade. Explain what you have learned. Include in your discussion an explanation of why countries must cooperate in order for world trade and global competition to thrive.
7. Do TWO of the following (with your parent's permission) and share with your counselor what you have learned: a. Visit the website of the U.S. State Department. Learn more about an issue you find interesting that is discussed on this website. b. Visit the website of an international news organization or foreign government, OR examine a foreign newspaper available at your local library, bookstore, or newsstand. Find a news story about a human right realized in the United States that is not recognized in another country. c. Visit with a student or Scout from another country and discuss the typical values, holidays, ethnic foods, and traditions practiced or enjoyed there. d. Attend a world Scout jamboree. e. Participate in or attend an international event in your area, such as an ethnic festival, concert, or play.
The date and time of the specific merit badge is listed in the title of the session.
When & Where
Citizenship in the World April 12 & 26Skip + Alex Lange Innovation Center
Wednesday 04-12-2023 6:00 PM ET to 8:00 PM ET
---
Citzenship in the Community February 8th and 22ndSkip and Alex Lange Innovation Center at Camp Belzer
Wednesday 02-08-2023 6:00 PM ET to 8:00 PM ET
Past
---
Communications Merit Badge February 8th & 22ndSkip + Alex Lange Innovation Center
Wednesday 02-08-2023 6:00 PM ET to 8:00 PM ET
Past
---
American Heritage Merit BadgeSkip + Alex Lange Innovation Center
Wednesday 02-22-2023 6:00 PM ET to 8:00 PM ET
Past
---
Citzenship in the Nation March 8th & 22ndSkip + Alex Lange Innovation Center
Wednesday 03-08-2023 6:00 PM ET to 8:00 PM ET
Past
---
Scholarship Merit Badge March 8th & 22ndSkip + Alex Lange Innovation Center
Wednesday 03-08-2023 6:00 PM ET to 8:00 PM ET
Past