2023 Ransburg Summer Camp
Event Details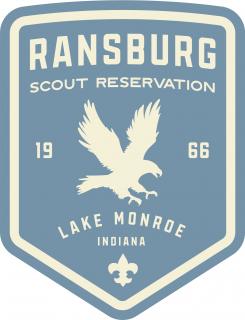 2023 Ransburg Summer Camp
With one of the most diverse program offerings in the country, Ransburg has something for every Scout in your Troop. If you are considering Ransburg for next summer, please visit us at www.ransburgbsa.org to learn more about our programs.
--> Note: If your unit would like to register for Week 2 or Week 4, please contact Jen (jenugen@crossroadsbsa.org) at the Council Office directly.

*Camp is now "All Inclusive".
There are no fees for merit badges and standard programs. Note: There could be fees for special trainings (i.e. CPR). These fees will be paid at camp.*

Please click here for the 2023 Activity Schedule.

Merit Badge Sign-Up Times
Weeks 1-2: April 1st, 9am (EDT)
Weeks 3-4: April 8th, 9am (EDT)
Weeks 5-7: April 8th, 12pm (EDT)

PAYMENT SCHEDULE

| | |
| --- | --- |
| Payment Type | Due Date |
| $200 Unit Reservation Deposit | At time of reservation |
| $50 Per Scout Deposit (does not apply to Crossovers) | February 15, 2023 |
| Early Fee | April 15, 2023 |
| Regular Fee | May 15, 2023 |
FEES

| Participant Type | Early Fee | Regular Fee |
| --- | --- | --- |
| In Council Youth | $470 | $495 |
| Out of Council Youth | $500 | $525 |
| Adults | $235 | $235 |
| Partial Week Leader | $120 | $120 |

Resources & Communication
Online Resources - In preparation for your week at camp, you can find online resource in several locations. Your primary source for online resources should be www.ransburgbsa.org, where you find numerous helpful documents and resources:
Leader Emails - Be sure your Camp Coordinator is the primary contact on your registration. You may also add your Scoutmaster and Committee Chair. Regular updates will be emailed starting in the fall. If you are not receiving these, please let us know!
Social Media - Visit us on: YouTube, Facebook, Instagram, and TikTok.
Registration Notes
Partial Week Leaders - Partial week leaders are those who will be in camp 3 nights or less. Leaders in camp 4 nights or more must pay the regular leader fee. Regardless of how many nights a leader stays, the complete health form (parts A, B, C) need to be completed.
Crossover Scouts - Webelos who cross over to a Scouts BSA Troop between 01/01/23 and the beginning of camp are eligible for the Early Payment Rate to encourage their attendance with your Troop. Only new crossovers are eligible for this rate.
Provisional Scouts - An individual Scout not camping with their Troop is considered a "Provisional Scout". To register a provisional scout, you will need to contact the CAC office. The Ransburg Staff will work to associate Provisional Scouts with a Troop, or form a Provisional Troop for that week.
Male/Female Troop Reservations - Units coming to camp must have separate reservations. For example if male Troop 100 is planning on attending with female Troop 1001, each Troop must have separate reservations. This helps to facilitate your Troop's summer camp experience.
Campsite Cooking Option - All meals are served family style in our Dining Hall. However, units who wish to cook in their campsite, rather than eat in the dining hall, can do so on a limited basis by reserving either Denali campsite or Yosemite campsite. By electing this option, your unit will provide your own food to prepare and cook in your campsite, for all three meals daily. Food to cook is not provided if you elect this option. Fees are adjusted accordingly for the campsite cooking option in Denali and Yosemite campsites. If you elect this option, the fees are discounted by $70 per registrant. Propane is not provided. Limited cooking equipment is available for check-out at the quartermaster. Please refer to the 2023 Camping Guide for more information.
Campsite Selections - We believe that the campsite is a Troop's home while at summer camp. We will work hard to help you register your Troop into the campsite(s) that suit your unique needs and preferences, while also being considerate of the other Troops who plan to attend. Projected numbers of youth and adult attendees are requested at the time of registration and should be confirmed with the Per Scout Deposit by February 15th, 2023. After this date, campsites that are not at capacity will be evaluated on an as needed basis for modification.
Leadership Requirements - A minimum of two leaders (over the age of 21) are required per reservation and then a 1 leader to 8 Scout ratio. If your troop has 1 - 16 Scouts, you would be required to bring two leaders. For 17 - 24 Scouts, 3 leaders; 25 - 32 Scouts, 4 leaders; etc. In addition, a male Troop must have at least one 21+ male leader and a female Troop must have at least one 21+ female leader.
Online Payment Options
Your campsite will not be reserved and reservation will not be made without the $200 deposit per unit.
Unit Account (Crossroads of America Council Troops): To use your unit account, select "UDA" from the payment options. You will be asked to provide your 5 or 6 digit PIN. If you do not know your unit's PIN, any person authorized to use the unit account may contact the council scout shop at (317) 813-7070.
eCheck: Pay online using a check by entering the routing number and the account number from your troop's check.
Credit/Debit Card: We accept Visa and MasterCard.
Contact Information
Jen Ugen, Program and Activities Assistant
317-813-7094
jenugen@crossroadsbsa.org
Campsite Matrix
Campsite availability is shown in real time for each session of camp.
Aspen (Ridge 1)
(capacity: 1 unit, 30 attendees)
Week 1


174B MO
202B MO
635B DBC
2
12
1
Week 2
38B WV
30
Week 3

182B BTC
312B BTC
4
8
Week 4
227B PF
10
Week 5
Week 6
109B MO
30
Week 7

131B MO
132B MO
13
3
Bald Cypress (Ridge 1)
(capacity: 1 unit, 30 attendees)
Week 1
202B MO
16
Week 2
154B SC
30
Week 3
130B BTC
20
Week 4

350B 5C
359B 5C
1
29
Week 5


1598G DBC
598B DBC
619G SC
12
1
2
Week 6
109B MO
29
Week 7
542B PTAC
15
River Birch (Ridge 1)
(capacity: 1 unit, 16 attendees)
Week 1
202B MO
16
Week 2

203B BC
2030G BC
14
1
Week 3
1070G MO
11
Week 4
3590G 5C
12
Week 5
72B TC
6
Week 6
Week 7
88B FC
6
American Beech (Ridge 1)
(capacity: 1 unit, 10 attendees)
Week 1
Week 2
733B LSC
10
Week 3
381B WR
4
Week 4
152B FC
7
Week 5
Week 6
199B MO
10
Week 7
Red Cedar (Ridge 1)
(capacity: 1 unit, 16 attendees)
Week 1
462B PF
12
Week 2
Week 3
595B MO
9
Week 4
219G PF
11
Week 5
211B BTC
6
Week 6
199B MO
16
Week 7
Sweetgum (Ridge 1)
(capacity: 1 unit, 16 attendees)
Week 1
133B FC
16
Week 2
308B 5C
11
Week 3
86B DBC
8
Week 4
560G MO
9
Week 5
35B MO
7
Week 6
199B MO
11
Week 7
Silver Maple (Ridge 1)
(capacity: 1 unit, 16 attendees)
Week 1
133B FC
15
Week 2
Week 3
305B BTC
16
Week 4

56B MO
1108G PF
16
2
Week 5
Week 6
199B MO
11
Week 7
Pawpaw (Ridge 1)
(capacity: 1 unit, 16 attendees)
Week 1
1033G FC
12
Week 2
95B WV
6
Week 3
305B BTC
9
Week 4
704B MCC
13
Week 5
Week 6
Week 7
Tulip Poplar (Ridge 1)
(capacity: 1 unit, 16 attendees)
Week 1
511B DBC
12
Week 2
189B WR
6
Week 3
Week 4
322B BGC
11
Week 5
Week 6
31B BC
8
Week 7
Sassafras (Ridge 1)
(capacity: 1 unit, 30 attendees)
Week 1
133B FC
22
Week 2
171G MO
17
Week 3
232B WR
27
Week 4
100B BC
12
Week 5
Week 6
199B MO
16
Week 7
Sycamore (Ridge 1)
(capacity: 1 unit, 30 attendees)
Week 1

396B 5C
92B PF
1
24
Week 2

358B MO
804B MO
1
31
Week 3
107B MO
20
Week 4
269B MO
10
Week 5

4012B LHC
4012G LHC
9
6
Week 6
801G SC
7
Week 7
120B MO
14
Tamarack (Ridge 1)
(capacity: 1 unit, 30 attendees)
Week 1

2720G PF
51B PF
1
16
Week 2



6G WV
161B FC
1610G FC
38B WV
3
12
7
2
Week 3
107B MO
23
Week 4
199B FC
12
Week 5
Week 6

109B MO
1090G MO
6
15
Week 7
120B MO
22
Cardinal Crest (Ridge 2)
(capacity: 1 unit, 32 attendees)
Week 1
205B MO
19
Week 2
4234B LHC
9
Week 3
228B PF
14
Week 4
181B LHC
24
Week 5
514B MO
23
Week 6
733B MO
32
Week 7
322B BWAC
22
Fox Den (Ridge 2)
(capacity: 1 unit, 40 attendees)
Week 1
258B DBC
15
Week 2
101B MO
24
Week 3

303B 5C
331G 5C
3
12
Week 4



394B 5C
1920G MO
219G MO
222G MO
2
18
4
1
Week 5
398B WR
6
Week 6
276B FC
20
Week 7

170B BTC
77B WR
1
12
Bison Trace (Ridge 2)
(capacity: 1 unit, 36 attendees)
Week 1

139B WV
1390G WV
2
10
Week 2
101B MO
36
Week 3

1920G MO
222G MO
1
21
Week 4
1910B MO
33
Week 5

171G MO
315G BTC
2
9
Week 6



787G FC
929B LSC
236B FC
276B FC
4
2
7
23
Week 7
Falcon Perch (Ridge 2)
(capacity: 1 unit, 36 attendees)
Week 1
293B FC
18
Week 2
409B TFC
7
Week 3
857B DBC
23
Week 4
83B AWAC
16
Week 5

240B BTC
315B BTC
2
21
Week 6
960B DBC
8
Week 7
Osprey Cove (Ridge 2)
(capacity: 1 unit, 28 attendees)
Week 1
100B HTC
16
Week 2
301B 5C
15
Week 3
375 BTC
12
Week 4
394B 5C
19
Week 5
Week 6
276B FC
21
Week 7
Chipmunk Glade (Ridge 2)
(capacity: 1 unit, 36 attendees)
Week 1
205B MO
21
Week 2
174B MO
28
Week 3
619G SC
12
Week 4
165B WDBC
23
Week 5
Week 6
7330G MO
14
Week 7
Salt Creek (Ridge 3)
(capacity: 1 unit, 40 attendees)
Week 1
1776B PF
17
Week 2
307B 5C
40
Week 3
93B PTAC
20
Week 4
245B PF
39
Week 5
266B PF
13
Week 6
112B MO
36
Week 7
Shakamak (Ridge 3)
(capacity: 1 unit, 28 attendees)
Week 1
427B FC
18
Week 2


307B 5C
105B MO
132B MO
3
14
1
Week 3
262G WR
11
Week 4


107B PF
245B PF
77B LHC
7
19
2
Week 5


1115G FC
115B FC
7374G HOAC
4
12
3
Week 6
1120G MO
7
Week 7
902B DBC
27
Tipsaw (Ridge 3)
(capacity: 1 unit, 26 attendees)
Week 1

399B 5C
3990G 5C
4
5
Week 2
303B SC
19
Week 3
686B FC
20
Week 4
244B FC
14
Week 5
Week 6
104 PF
22
Week 7
242B FC
21
Pokagon (Ridge 3)
(capacity: 1 unit, 20 attendees)
Week 1
483B DBC
8
Week 2
139B PF
16
Week 3
6860G FC
6
Week 4
244B FC
14
Week 5
Week 6
33B BC
9
Week 7
Karst (Ridge 3)
(capacity: 1 unit, 28 attendees)
Week 1
446B FC
26
Week 2

166B SKC
7166G SKC
22
7
Week 3
104B PF
39
Week 4


721G MO
180B MO
72B MO
2
3
7
Week 5
218B PF
19
Week 6

132B MO
1320G MO
16
11
Week 7
778G GSLAC
12
Limestone (Ridge 3)
(capacity: 1 unit, 36 attendees)
Week 1
20B DBC
18
Week 2
69B WR
9
Week 3
375B SWC
2
Week 4
859B SKC
25
Week 5
338B 5C
11
Week 6
132B MO
28
Week 7
778G GSLAC
10
Patoka (Ridge 3)
(capacity: 1 unit, 22 attendees)
Week 1


173G MO
27B MO
35B MO
1
12
2
Week 2


103B MO
1030G MO
288B DBC
18
4
1
Week 3
45B BC
5
Week 4
108B PF
5
Week 5
Week 6
120B PF
14
Week 7
533B PTAC
19
Flatrock (Ridge 3)
(capacity: 1 unit, 36 attendees)
Week 1
397B 5C
21
Week 2
621B PF
28
Week 3
223B BC
15
Week 4

136B SKC
412B SKC
22
1
Week 5
Week 6
303B MO
33
Week 7
336B 5C
16
White River (Ridge 3)
(capacity: 1 unit, 24 attendees)
Week 1
598B DBC
11
Week 2
564B PF
18
Week 3

311B WV
361B WR
5
8
Week 4
8B DBC
24
Week 5
Week 6
350B WHH
24
Week 7
Yellowwood (Ridge 3)
(capacity: 1 unit, 20 attendees)
Week 1

173G MO
73B MO
7
13
Week 2
4025B LHC
21
Week 3
392B 5C
11
Week 4
246B MVC
11
Week 5
Week 6

120B PF
3030G MO
1
8
Week 7
Anchor Hitch (Ridge 4)
(capacity: 1 unit, 22 attendees)
Week 1
180B MO
15
Week 2
250B BC
8
Week 3
161B DBC
15
Week 4
39B WR
8
Week 5
Week 6
150B MO
10
Week 7
337B 5C
16
Angler's Loop (Ridge 4)
(capacity: 1 unit, 18 attendees)
Week 1

219G MO
219G PF
14
1
Week 2
1321G QC
10
Week 3
330B BTC
8
Week 4
309B 5C
20
Week 5
494B 5C
4
Week 6
Week 7
279B WR
8
Bowline (Ridge 4)
(capacity: 1 unit, 32 attendees)
Week 1
358B MO
22
Week 2
77B LHC
16
Week 3
22B WR
16
Week 4
512B TFC
8
Week 5

318B PTAC
318G PTAC
14
4
Week 6
Week 7
Marlinspike (Ridge 4)
(capacity: 1 unit, 24 attendees)
Week 1
358B MO
16
Week 2

1B WR
19G WR
7
3
Week 3

319B LHC
22B WR
2
12
Week 4
254B FC
17
Week 5
318B PTAC
24
Week 6
441B FC
21
Week 7
Carrick Bend (Ridge 4)
(capacity: 1 unit, 32 attendees)
Week 1
Week 2

69B MO
373B SC
30
1
Week 3
125B MO
18
Week 4
459B BAC
16
Week 5

318B PTAC
318G PTAC
22
2
Week 6

3B BC
6B BC
14
6
Week 7
Spinnaker (Ridge 4)
(capacity: 1 unit, 36 attendees)
Week 1
Week 2
319B LHC
11
Week 3
125B MO
15
Week 4

99B WV
999G WV
14
7
Week 5
Week 6
169B MVC
17
Week 7
Halyard (Ridge 4)
(capacity: 1 unit, 32 attendees)
Week 1
930B DBC
22
Week 2
1621G PF
7
Week 3


186B BTC
186G BTC
192B BTC
13
7
3
Week 4
133B EAC
24
Week 5
Week 6
8B FC
19
Week 7
Lark's Head (Ridge 4)
(capacity: 1 unit, 30 attendees)
Week 1
18B MO
22
Week 2
335B FC
8
Week 3
Week 4
265B PF
14
Week 5
Week 6
Week 7
Acadia (Ridge 5)
(capacity: 1 unit, 26 attendees)
Week 1
3346B BTC
8
Week 2
Week 3
724B DBC
23
Week 4
123B SKC
28
Week 5
Week 6
23B WV
12
Week 7
Shenandoah (Ridge 5)
(capacity: 1 unit, 24 attendees)
Week 1
Week 2
4036B LHC
10
Week 3
321B LHC
10
Week 4
123B SKC
1
Week 5
Week 6
Week 7
1320G MO
1
Teton (Ridge 5)
(capacity: 1 unit, 48 attendees)
Week 1
Week 2
7332G SKC
22
Week 3

8035B GSLAC
8035G GSLAC
14
4
Week 4
34G AWAC
4
Week 5
Week 6
Week 7
Glacier (Ridge 5)
(capacity: 1 unit, 62 attendees)
Week 1
Week 2
944B DBC
34
Week 3
27B CAC
44
Week 4
34B AWAC
15
Week 5
Week 6

1007G DBC
7B DBC
4
28
Week 7
Denali (Ridge 5) Campsite Cooking Preferred Site (Unit Provides All Food)
(capacity: 1 unit, 46 attendees)
Week 1
947B DBC
22
Week 2
152B MO
18
Week 3
264B PTAC
13
Week 4
71B TC
25
Week 5

4025B LHC
4119B LHC
1
13
Week 6
Week 7
Yosemite (Ridge 5) Campsite Cooking Preferred Site (Unit Provides All Food)
(capacity: 1 unit, 34 attendees)
Week 1
Week 2
433B SC
11
Week 3
Week 4
Week 5
Week 6
Week 7
Adventure Point (Racoon Meadow)
(capacity: 1 unit, 24 attendees)
Week 1
Week 2
Week 3
Week 4
Week 5
Week 6
396B 5C
41
Week 7
770B FC
24
Adventure Point (Eagle Landing)
(capacity: 1 unit, 24 attendees)
Week 1
Week 2
Week 3
Week 4
Week 5
Week 6
Week 7
770B FC
3
LEGEND
No units or participants registered for campsite
Campsite is reserved but has room for additional unit(s)
Campsite has reached unit or participant limit
When & Where
Week 1Ransburg Scout Reservation
Sunday 06-04-2023 1:00 PM ET to
Saturday 06-10-2023 10:00 AM ET
Past
---
Week 2Ransburg Scout Reservation
Sunday 06-11-2023 1:00 PM ET to
Saturday 06-17-2023 10:00 AM ET
Past
---
Week 3Ransburg Scout Reservation
Sunday 06-18-2023 1:00 PM ET to
Saturday 06-24-2023 10:00 AM ET
Past
---
Week 4Ransburg Scout Reservation
Sunday 06-25-2023 1:00 PM ET to
Saturday 07-01-2023 10:00 AM ET
Past
---
Week 5Ransburg Scout Reservation
Sunday 07-02-2023 1:00 PM ET to
Saturday 07-08-2023 10:00 AM ET
Past
---
Week 6Ransburg Scout Reservation
Sunday 07-09-2023 1:00 PM ET to
Saturday 07-15-2023 10:00 AM ET
Past
---
Week 7Ransburg Scout Reservation
Sunday 07-16-2023 1:00 PM ET to
Saturday 07-22-2023 10:00 AM ET
Past