Leave No Trace Trainer Course
Event Details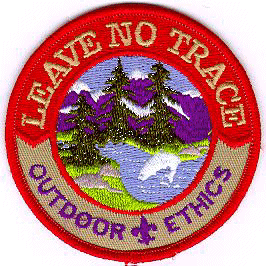 When:
Registration and check-in begin at 5:00 PM with the program beginning at 6:00 PM on Friday, May 14th. The course will end around 12:00 PM on Sunday, May 16th.
Where:
Camp Chief Little Turtle, 2282 W. 500 S. Pleasant Lake, IN 46779
What is Leave No Trace?
Leave No Trace is an educational, non-profit movement dedicated to the responsible enjoyment and active stewardship of the outdoors by all people, worldwide. The Leave No Trace concept is one that crosses all boundaries of the recreation spectrum and is applicable for anyone who enjoys spending time in the out-of-doors. The idea is simple – leave the places you enjoy as good as or better than you found them. Both skills and ethics are involved, as well as good decision-making. If people do something, even something simple, to help take care of the recreational resources they cherish, we will all benefit. Cleaner water, less campfire impacts, fewer negative encounters with wildlife, less damage/loss of cultural and historic artifacts are just a few of the benefits of adhering to Leave No Trace. For more information about Leave No Trace, check out: http://www.lnt.org
Who should attend?
This course is open to adult Scouters, Venturers, and Boy Scouts over the age of 14 who are interested in learning more about the 7 principles of Leave No Trace and how to effectively teach those principles and associated skills. All participants who complete this course will be recognized as Leave No Trace Trainers by the Leave No Trace Center for Outdoor Ethics.
Course Description:
This course will allow participants to learn and practice the 7 principles of Leave No Trace. This course will also focus on the effective presentation of these principles. The course will pivot between both classroom and outdoor experiences and presentations. Participants will learn both front country and back country information.
Fee:
$50.00 – The course fee covers lodging, food, training materials and awards. Registration is limited to the first 15 participants and will close April 16th, 2021.
Housing:
Participants will camp in a designated campsite Saturday night. Participants will need to provide their own camping equipment and bedding.
If you have any questions, please contact course director Randy Swim by email Jrswim12@gmail.com or course coordinator Bryan Lineberry bryan3081@aol.com
When & Where
Save the Date Leave No Trace Trainer
Camp Chief Little Turtle
Friday 05-14-2021 8:00 AM ET to
Sunday 05-16-2021 3:00 PM ET