Event Details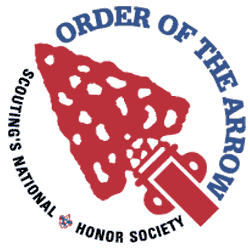 OA Fall Fellowship
Fun, Fellowship, Service
Old Ben Scout Reservation
September 11-13, 2020
Check-In: Friday 6-7:30 PM
All Arrowmen are invited to attend our 2020 Fall Fellowship, either digitally or in person at Old Ben Scout Reservation. We will offer many activities, service, and fun for everyone! If you have been elected to the Order of the Arrow, this is the weekend to complete your Ordeal. Are you an Ordeal member already? You may be eligible to seal your membership in the OA by completing your Brotherhood conversion. We will also host our annual Lodge Elections. Be sure to register now!
Upon registering for the online portion of the event, you will be emailed information on how to join the sessions. Prior to the event, you will be mailed all of your event resources. For those completing their induction, this includes your Ordeal Sash, the New Member booklet, and the Digital Ordeal Experience Guide.
Find more details on our website at kiondaga.org/fall. The safety of our members is always our top priority. To learn about COVID-19 precautions, go to kiondaga.org/fall#covid. If you have any questions, please reach out to us at contact@kiondaga.org.
When & Where:
Old Ben Scout Reservation
Friday, September 11 6:00 PM CT to
Sunday, September 13 10:00 AM CT
Contact:
Kiondaga Lodge
contact@kiondaga.org
Adam Krohn
Lodge Adviser
adviser@kiondaga.org
Luke Schweickart
Lodge Chief
chief@kiondaga.org
Lodge Staff Adviser
staffadviser@kiondaga.org
5735 E County Rd 175 N, Winslow, IN 47598
When & Where
Old Ben Scout Reservation
Saturday 09-12-2020 6:00 PM CT to
Monday 09-14-2020 10:00 AM CT
Past