Scouts BSA Summer Camp 2021
Event Details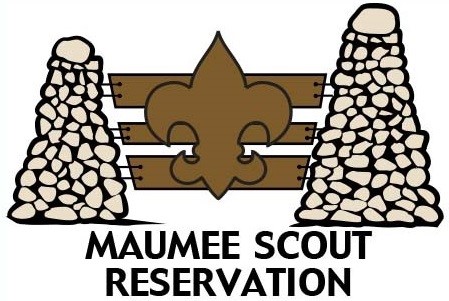 It is my pleasure to welcome you to Maumee Scout Reservation for an exciting 2021 summer camp experience! Summer camp is where we deliver the promise of Scouting through the adventures we offer. This is the highlight of a Scout Troop's program year, and our staff is ready to help make that a reality for you and your Scouts.

It is our desire that you are able to enjoy a week away from the pressures and demands of the world and spend quality time with your Scouts, our future leaders. You will cherish this time in the most beautiful part of the state where the sounds of nature can be heard and everywhere you look is a picture of unforgettable memories. It is amazing to see how Scouts and Scouters from all over can come together in their own miniature community for weeks on end and accomplish great things in their troops. Even more amazing is the camaraderie that is developed between Troops and Scouts as they come back each year. Maumee is a prime example of this, and our Troops are what make that a reality.

After that, leave it up to us – we're going to make sure you have a great year! As always, welcome to camp.
Campsite Matrix
Cheyenne Upper
(capacity: 1 unit, 20 attendees)
Week 1
Week 2
Week 3
605 MU
3
Week 4
604 MU
4
Week 5
464 WR
12
Cheyenne Lower
(capacity: 1 unit, 20 attendees)
Week 1
393 SC
2
Week 2
167 SC
2
Week 3
231 WA
22
Week 4
604 MU
20
Week 5
588 MU
10
Mandan Upper
(capacity: 1 unit, 18 attendees)
Week 1
Week 2
Week 3
Week 4
Week 5
717 MU
18
Mandan Lower
(capacity: 1 unit, 18 attendees)
Week 1
Week 2
338 SC
10
Week 3
332 WR
15
Week 4
Week 5
110 WA
13
Pawnee Upper
(capacity: 1 unit, 20 attendees)
Week 1
555 MU
6
Week 2
557 MU
20
Week 3
481 WR
1
Week 4
Week 5
173 WR
6
Pawnee Lower
(capacity: 1 unit, 30 attendees)
Week 1
348 WR
29
Week 2
557 MU
12
Week 3
481 WR
5
Week 4
222 WA
19
Week 5
532 MU
11
Osage Upper
(capacity: 1 unit, 24 attendees)
Week 1
549 MU
7
Week 2
223 WA
12
Week 3
1190 WA
6
Week 4
Osage Lower
(capacity: 1 unit, 24 attendees)
Week 1
Week 2
1223 WA
6
Week 3
219 WA
13
Week 4
121 WA
30
Illini Upper
(capacity: 1 unit, 30 attendees)
Week 1
559 MU
2
Week 2
1148 WA
16
Week 3
1343 WR
7
Week 4
Illini Lower
(capacity: 1 unit, 20 attendees)
Week 1
559 MU
20
Week 2
Week 3
343 WR
11
Week 4
Kickapoo Upper
(capacity: 1 unit, 18 attendees)
Week 1
Week 2
148 WA
5
Week 3
1148 WA
5
Week 4
170 WA
10
Week 5
148 WA
1
Kickapoo Lower
(capacity: 1 unit, 24 attendees)
Week 1
119 WA
17
Week 2
148 WA
24
Week 3
306 CAC
24
Week 4
1229 WA
14
Ottawa Upper
(capacity: 1 unit, 20 attendees)
Week 1
3231 WA
1
Week 2
1119 WA
11
Week 3
Week 4
631 MU
5
Week 5
541 MU
4
Huron Upper
(capacity: 1 unit, 20 attendees)
Week 1
Week 2
190 WA
13
Week 3
144 SC
6
Week 4
100 WA
17
Week 5
634 MU
15
Huron Lower
(capacity: 1 unit, 20 attendees)
Week 1
Week 2
Week 3
Week 4
646 MU
11
Week 5
LEGEND
No units or participants registered for campsite
Campsite is reserved but has room for additional unit(s)
Campsite has reached unit or participant limit
When & Where
Week 1Maumee Scout Reservation
Sunday 06-13-2021 1:00 PM ET to
Saturday 06-19-2021 10:00 AM ET
Past
---
Week 2Maumee Scout Reservation
Sunday 06-20-2021 1:00 PM ET to
Saturday 06-26-2021 10:00 AM ET
Past
---
Week 3Maumee Scout Reservation
Sunday 06-27-2021 1:00 PM ET to
Saturday 07-03-2021 10:00 AM ET
Past
---
Week 4Maumee Scout Reservation
Sunday 07-11-2021 1:00 PM ET to
Saturday 07-17-2021 10:00 AM ET
Past
---
Week 5Maumee Scout Reservation
Sunday 07-18-2021 1:00 PM ET to
Saturday 07-24-2021 10:00 AM ET
Past