OA Memorial Day Workers Weekend
Event Details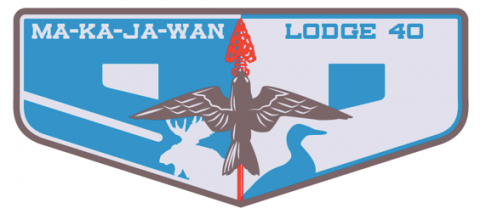 2019 Memorial Day
Workers Weekend
(Sponsored by the Order of the Arrow)
OPEN TO ALL SCOUTS AND SCOUTERS
Once again, it's time to schedule a trip to the Northwoods, to Ma-Ka-Ja-Wan Scout Reservation during the Memorial Day weekend to help prepare our camp for the90th anniversary 2019 season of Scouting.
This weekend of cheerful service is not just for members of the Order of the Arrow, but for any Scout, Scouter, or friend of Scouting who would like to come. ΑΦΩ Chapters are also welcome to attend. We encourage Units to sign up for specific projects. Email leehaak57@gmail.com for details.
The weekend is not all work, but also FUN. You will have time to enjoy opportunities like fishing, hiking, canoeing, crafting, or sitting around a campfire with some old (and maybe new) friends. Enjoy the great Northwoods. Bring your own tent or reserve a cabin along the shore of Lake Killian.
Also, if you are an Ordeal Member, and have been so since July 2018, this is a terrific opportunity to seal your membership in the order by accepting the Brotherhood Honor. Eligible Ordeal members are welcome to the Brotherhood! If you completed your Ordeal in 2017 or 2018 your Brotherhood fees are paid for this year, the cost would be just the event fees for the food.
The brand new 2019 service shirts will be available for ALL that come and give service. As always, Sustaining Members are free.
We have also setup a self-service Google doc for drivers to find riders and riders to find a ride. If you have an open seat or two, or need a ride use the following link https://docs.google.com/forms/d/e/1FAIpQLSfDB3EIqUJb1sp-8YHbX5ZuUWqtG10k8AXBZMhGrJii7tbfJw/viewform?usp=sf_link
if you have any issue using this system please email oalodge40@gmail.com.
DATES: May 24-26, 2019
WHO: Scouts and Scouters, friends and family able to do a hard day's work
ARRIVE: Any time after 5PM Friday, May 24 Plan to provide your own food Friday evening.
DEPART: Mid-morning Sunday (Last meal served May 26 Breakfast)
WHERE: Ma-Ka-Ja-Wan Scout Reservation, Pearson, Wisconsin
WHY: To make repairs and prepare the camp for this summer. To obtain the Brotherhood Honor. To HAVE FUN.
REGISTRATION: Register online at www.neic.org – be green, no paper registrations please! USE YOUR BSA ID for the OA ID field while registering !!
FEES IF REGISTERED AND PAID BY MAY 5, 2019 (11:59 PM)

$0 Sustaining Member
$15 OA Member
$15 Guest
$15 Brotherhood Member
$35 Brotherhood Candidate
$20 Brotherhood Candidate-Sustaining Member

FEES IF REGISTERED AND PAID STARTING MAY 6, 2019

$10 Sustaining Member
$25 OA Member
$25 Guest
$25 Brotherhood Member
$45 Brotherhood Candidate
$30 Brotherhood Candidate-Sustaining Member
MEDICAL FORMS: Completed BSA Medical From Part A and B for each Participate!
LODGING: Cabins reserved through Lee Haak, or bring your own tent.
QUESTIONS? Please contact Lee Haak (847-680-3876 or leehaak57@gmail.com) for questions, and to reserve service projects. Contact Dave Davies (davedavies@me.com) for registration questions.
When & Where
Ma-Ka-Ja-Wan Scout Reservation
Friday 05-24-2019 5:00 PM CT to
Sunday 05-26-2019 11:00 AM CT
Past