OA: National Order of the Arrow Conference (NOAC)
Event Details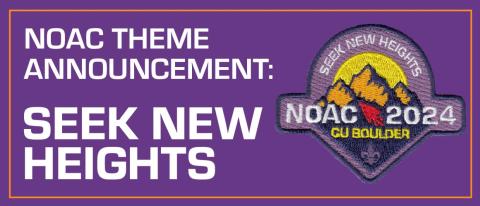 National Order of the Arrow Conference - NOAC
July 29 - Aug 3, 2024 at University of Colorado Boulder
We are excited to invite you to join the Lowaneu Allanque Lodge Contingent as a Delegate to the 2024 National Order of the Arrow Conference from July 29 - Aug 3, 2024 at the University of Colorado Boulder! This is the largest event in the OA, with upwards of 8,000 attendees—from more than 200 lodges—expected from across the country.
Arrowmen will have the opportunity to partake in a week full of nonstop fun, including engaging training sessions, exciting afternoon activities, enticing games, and remarkable evening shows. When Arrowmen step onto campus on July 29, they will join a growing spirit of Scouting pervading Boulder. Soon after, our opening show will fill shoulder to shoulder as we celebrate everything our order is and can become.
Registration & pricing for the Three Fires Council Contingent is as follows:
Payment Schedule $1150 Early Bird Fee / $1200 Regular Price
Deposit = $250 / due when you register
1st Payment = $375 / due on or before Jan 12, 2024
2nd Payment = $375 / due on or before March 15, 2024
Final Payment = $200 / due on or before May 3, 2024 ($50 Early Bird discount is applied if you have paid the deposit and the 1st payment on or before Jan 12, 2024)
The per-person deposit is transferable to a substitute contingent participant (youth or adult) within our lodge on a one-for-one basis, but it is non-refundable, unless event is cancelled, and may not be applied to the balance due for another person. All requests for cancellation must be made in writing to the OA Lodge Advisor (Jen Cain). Participants canceling their reservation after May 1st, 2024, will forfeit their entire contingent fee.
These fees include all transportation to and from Denver, NOAC fees, patches, NOAC bling (merchandise and regalia) and other awesome stuff!
TRANSPORTATION to and from the University of Colorado Boulder will be by Amtrak Train and Bus Shuttle Service from Union Station Denver to the University. Contingent youth & adults will travel from the Naperville, IL train station on July 28th/Time TBA and depart Denver on Saturday, August 3, 2024 and return to Naperville train station Sunday, August 4, 2024.
BENEFITS: Contingent Delegates will return home with:
A renewed spirit, pride, and enthusiasm for Scouting and the Order of the Arrow.
New friendships with fellow Arrowmen from throughout the nation.
Amazing patch trading and memories to last a lifetime!
ATTENDANCE: All Arrowmen who are registered members of the Boy Scouts of America and have their council's approval are eligible to participate in the 2024 NOAC. All youth participants must register as a delegate of a council contingent or be a member of the conference staff.
SCHOLARSHIPS: Available on an as needed basis and can cover a portion of the Standard Contingent Fee. See the NOAC 2024 Scholarship Form on right sidebar.
FOR MORE INFORMATION, CONTACT:
Mark Doddato - NOAC 2024 Contingent Adviser - 708-207-0366 - markdoddato.gmail.com
Nico Lamb - NOAC 2024 Chair
Jen Cain – Lodge Adviser
When & Where
University of Colorado Boulder
Monday 07-29-2024 12:00 AM CT to
Saturday 08-03-2024 11:59 PM CT