2023 MBU - Instructor & Staff Registration
Event Details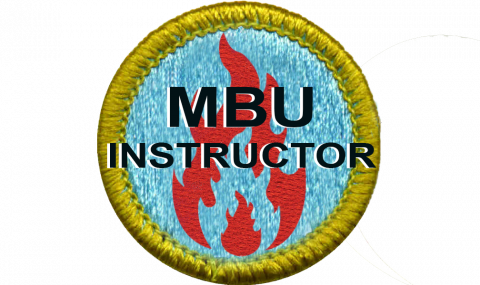 Welcome to the 26th Annual Merit Badge University Instructor & Staff Registration!
It takes an army of dedicated Volunteers to make MBU a success. For 26 years, hundreds of selfless moms, dads, business and community leaders have given back to Scouting by serving as Merit Badge Instructors, Assistant Instructors & Staff. Thank YOU for being a part of our team and for helping our Eagles to soar!
Here's how this works:
1. Complete your registration. If you wish to be a Merit Badge Counselor, please be sure and indicate which badges you are qualified to teach. If you wish to serve as Staff, please indicate what positions you would be comfortable staffing.
2. If this is your first time, we'll coach you through event day procedures. We recommend that you serve as an assistant instructor your first time out. One of our volunteer coordinators will reach out, discuss where you'd like to contribute and place you in a class.
3. If you're an MBU veteran, you know the deal. We'll get back to you on pre-reqs and your equipment and audio-visual needs.
4. Questions? Please contact the appropriate individual(s) on the right sidebar under contacts.
Your MBU All-Volunteer Team
Additional Information:
All MB Instructors & staff must register online.
An email and a mobile phone # are required so that we may communicate important information to you leading up to the event. We do not share this information and we respect your privacy.
Registered Volunteers will receive a commemorative MBU Patch.
Lunch is included with your registration.
1 parking pass per person will be emailed to you a few days prior to MBU. Park only in designated areas at Camp Big Timber.
Merit Badge Instructors and Assistant Instructors are required to have a current BSA Youth Protection Certificate. NO EXCEPTIONS.

MB Counselors:

Your preliminary Class Rosters can be e-mailed to you a week prior to MBU if requested. We highly recommend that you email your students with reminders about what to bring to class and reminder of any pre-requisites. NOTE: Parents these days wait till the very last minute to register their Scouts. You will not have the final list of your students until the day of the event.
One of our Merit Badge Pre-Requisite Coordinators will contact you to discuss what will be required of your students on the day of the event. Please be considerate of our requests - It is very important that we are consistent across multiple Instructors so that we don't confuse Scouts and Parents. You may not add or delete prerequisites from our approved MBU curriculum.

STAFF:

you will also receive a reminder a week before either event with last minute instructions.
When & Where
York High School
Saturday 02-25-2023
7:00 AM CT to 4:30 PM CT
Past
---
Camp Big Timber
Saturday 05-06-2023
7:00 AM CT to 4:30 PM CT
Past