Event Details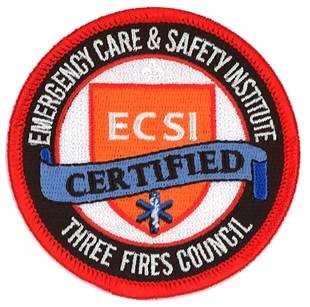 CPR/AED Certification Classes
Based on the 2010 International Consensus Guidelines for Cardiopulmonary Resuscitation (CPR) and Emergency Cardiac Care (ECC), CPR, and AED, this course is designed to certify laypersons in CPR and AED. Coverage of the 2010 CPR and ECC Guidelines
Clear, concise direction on how to perform CPR and use an AED during an emergency.
Current information on injuries and illnesses: Core information for first aiders presented in a clear and straightforward format.
Skill Drills: Offer step-by-step explanations and visual summaries of important skills.
Emergency Care Wrap-Up Tables: Provide a concise summary of what signs first aiders should look for and what treatment steps they should take.
CPR/AED Training needed to take Wilderness First Aid.
Contact
Mike Fugate
Training Chairperson
mwfugate@frontier.com
815.757.4987

Roy Breede
NT Training Chair
roy_breede@yahoo.com
630-815-3204

Thomas Barrington
TFC: Staff Advisor
630.303.4025

Norris Scout Service Center
415 N Second St
St. Charles, Illinois 60174
Email:
Phone: (630) 584-9250

When & Where
December 2017 CPR-AEDNorris Scout Service Center
Friday 12-01-2017 7:00 PM CT to 9:30 PM CT
Past
---
January 2018 CPR-AEDCamp Big Timber
Friday 01-12-2018 7:00 PM CT to 9:30 PM CT
Past
---
February 2018 CPR-AEDCamp Big Timber
Friday 02-02-2018 7:00 PM CT to 9:30 PM CT
Past
---
March 2018 CPR-AEDCamp Big Timber
Friday 03-16-2018 7:00 PM CT to 9:30 PM CT
Past
---
April 2018 CPR-AEDCamp Big Timber
Friday 04-06-2018 7:00 PM CT to 9:30 PM CT
Past
---
May 2018 CPR-AEDCamp Big Timber
Friday 05-04-2018 7:00 PM CT to 9:30 PM CT
Past
---
November 2018 CPR-AEDCamp Big Timber
Friday 11-02-2018 7:00 PM CT to 9:30 PM CT
Past
---
December 2018 CPR-AEDCamp Big Timber
Friday 12-07-2018 7:00 PM CT to 9:30 PM CT
Past