OA: Lodge Leadership Development & Brotherhood Conversion
Event Details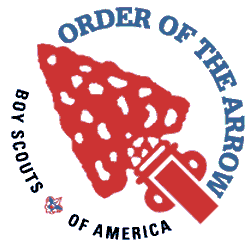 Order of the Arrow Lodge Leadership Development (LLD) Training
Training Academy on November 9, 2019
OA Lodge Leadership Development (LLD) Training (8am to 4pm) - This five session course is for OA training for both youth & adult Lodge leaders. LLD (Lodge Leadership Development) is a required class for all Lodge and Chapter officers and their advisers but it is open & encouraged for all OA members to take. The session will consist of topics that we need to discuss to help our lodge run better, such as communication, elections, events, etc. Registration includes patch & lunch & training materials. Please wear your OA uniform & sash.
Who: All OA Youth & Adults who desire or are involved in a leadership role in the Order of the Arrow
Where: Sycamore High School, 427 Spartan Trail, Sycamore, IL. 60178
When: Saturday, November 9, 2019 – 8:30 am – 4 pm
What to Bring: Pen and paper….Scout Spirit….wear your Scout Uniform
Registration includes: lunch, snacks, program supplies, TFC Training Academy patch plus the Training Academy carry bag.
Fee: No cost for this training. The lodge will pay your fee.
Brotherhood Conversion at Training Academy
This is a great chance to seal your membership with the Order of the Arrow. (Ceremony assembly is at 1:30pm)
Youth & Adult members who did their Ordeal 6 months prior to this event are eligible. Please register so that we have enough sashes and materials on hand. Youth & Adult members who wish to attend this ceremony & are not attending Training Academy should check in at the registration area to pick up a wrist band & room location for the ceremony. (No fee or registration needed for non-Training Academy Guests. We just have to have you pick up a wristband if you are in the School.) Ceremony assembly is at 1:30pm and will start shortly thereafter.

Where: Sycamore High School, 427 Spartan Trail, Sycamore, IL. 60178
When: Saturday, November 9, 2019 – 1pm – 4 pm
What to Bring: Pen and paper….Scout Spirit….wear your Scout Uniform with Sash
Fee: Brotherhood Conversion Fee: $20 (for the sash, payable at the OA table in the midway)
When & Where
Sycamore High School
Saturday 11-09-2019 8:30 AM CT to 4:00 PM CT
Past