Chippewa District Pinewood Derby
Event Details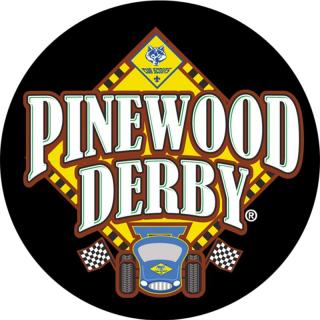 Get your engines ready for the Chippewa District Pinewood Derby April 15th, 2023!
The top three pack winners, plus an alternate, advance and race to win the Chippewa District Championships. (The alternate will race only if one of the top three finishers is unable to race.)

CUB SCOUT and FAMILY OPEN RACING DIVISIONS
Yes, parents & siblings, this means you too may race for a champion's trophy!
Registration 8:30am to 9:30am
Races Start Promptly at 9:30am
Open Division Races Start Immediately following Scout Races
*Race Times May Vary*
SPECIAL NOTICES
GENERAL INFORMATION:
All entrants must use Official BSA Pinewood Derby kits. They are available at your local Scout Shop.
Pre-manufactured, pre-assembled and/or customized kits are prohibited.
All entrants must follow Official BSA Pinewood Derby rules, abbreviated in this handout, found in full inside the derby kits.
In fairness, Scout cars are expected to be made by Scouts.
Adults and siblings may race cars of their own creation using BSA official rules.
PACK INFORMATION:
Top 4 Pack participants will advance to the Chippewa District Championships.
The winning cars must be stored by the Cubmaster, Committee Chair or designated appointee of the Pack until the Chippewa District Championships. Cars will be checked into the District event by that person.
Scouts bringing their own cars will not be allowed to race for placement or prizes and only in the auxiliary races. NO EXCEPTIONS.
Pack will need to report pack winners including rank and contact information by April 6th to ensure scouts will be registered and eligible for the district finals.
Pack must report who will be responsible for checking in the cars at the district event.
Scouts must accompany that person to the check-in to verify their car.
Scouts must be present at start time of the district event to qualify for placement and prizes
DISTRICT EVENT INFORMATION:
SCORING: Race Scoring will be based on Times Scoring. The three lowest cumulative times of 4 races total will be determine the winners.
Scouts will race other scouts in the same rank/grade and run a total of four races
This will allow each Scout to race on each lane of the track once to provide an even and fair racing level.
AWARDS: Will be given to the top 3 participants in each rank based on time scoring above.
ADDITIONAL INFO: An Award will be given for Best In Show (as voted on by Scouts)
DISPUTES: Any disputes will be resolved by the District Activities committee
When & Where
Stratford Square Mall
Saturday 04-15-2023 8:30 AM CT to 1:00 PM CT
Past