MB: Rifle Shooting Merit Badge @ Cabela's
Event Details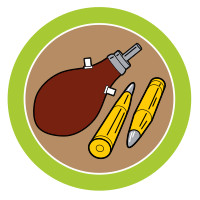 Rifle Shooting Merit Badge
Rifle Shoot Merit Badge Workshops will be offered at Cabela's® in Hoffman Estates during the month of September. Scouts will learn the laws of gun safety and hunting, the three main parts of a rifle, how it functions and much more. This Merit Badge program will give Scouts the opportunity to earn on the of the Original Merit Badges from the 1910 BSA Handbook. The badge has been relabeled as the Marksmanship Merit Badge in 1911, Rifle & Shotgun Shooting in 1967 and Rifle Shooting in 1987.
Cabela's® is proud to partner of Three Fires Council, Boy Scouts of America.
The workshops are open to all registered Boy Scouts.
When & Where
Wednesday, September 5thCabelas
Wednesday 09-05-2018 6:00 PM CT to 8:00 PM CT
Past
---
Tuesday, September 11thCabelas
Tuesday 09-11-2018 6:00 PM CT to 8:00 PM CT
Past
---
Thursday, September 20thCabelas
Thursday 09-20-2018 6:00 PM CT to 8:00 PM CT
Past
---
Wednesday, September 26thCabelas
Wednesday 09-26-2018 6:00 PM CT to 8:00 PM CT
Past