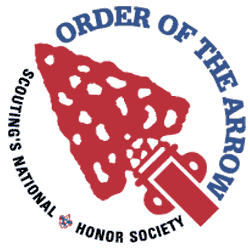 2017 Spring Fellowship
The Order of the Arrow Spring Fellowship will be held at Camp Freeland Leslie on June 2, 2017. Join us for FUN & fellowship at beautiful Camp Freeland Leslie where we will do camp improvements & cheerful service to help get our camp ready for the 2017 camping season.
Spring Fellowship weekend is an opportunity for both newly selected and current members of the Order of the Arrow to conduct service at our camp, share in fellowship, and learn more about what it is to be an Arrowman. It is an opportunity for Arrowmen to gather together and celebrate the past year in the lodge, learn more about how you can serve Scouting and the Order of the Arrow, have some fun, and elect new Lodge and Chapter Officers for next year.
For newly elected Ordeal Candidates: This is an excellent opportunity to complete your ordeal and join our Lodge. Please read the Ordeal Candidate Letter and Ordeal Candidate Equipment List for important information related to joining our Lodge. You must also download, complete and bring the following Forms with you to this event. Form links are listed under Attachments.
COSTS: (Select those that apply) You may pay any of these online when registering.
Medical Form - Parts A & B.
2017 Ordeal Candidate - Equipment Letter
For current Ordeal Members who wish to seal their Brotherhood: After you have been a member of the Order of the Arrow for at least 10 months, you may seal your membership in the OA by doing your Brotherhood Conversion at this Fellowship.
Please note - Lodge Dues must be current in order to participate in the Fellowship weekend. You may pay your Dues using the links at the top of the page when registering for this event.
Mike Koehne
Lodge Adviser
mwkoehne@aol.com
630-726-8133

Deborah Brown
OA Assoc. Lodge Adviser
djrgb@comcast.net
630.263.9612

Alan Burnham
Assoc. Lodge Adviser
alan145.bsa@gmail.com

Norris Scout Service Center
415 N Second St
St. Charles, Illinois 60174
Email:
Phone: (630) 584-9250

OA Spring FellowshipCamp Freeland Leslie
Friday 06-02-2017 6:00 PM to
Sunday 06-04-2017 10:00 AM
Past