Event Details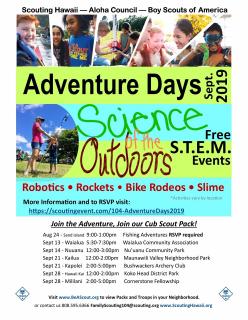 Click the RSVP Link middle of page


Join us for Adventure Days this fall!
Adventure Days are a free community event designed to introduce your family to Scouting and provide some awesome STEM activities for kids of all ages! However, it is not necessary to join scouts to attend this fun event - it is open to all boys, girls and families. Each location will feature activities such as slime making, bristlebot races, water bottle rockets or archery, raingutter regattas, bike rodeos, and more--plus for the new Scouts learn some basics to get started on your Bobcat award!
Information will be available if you are interested to learn how to sign up your kids for Scouting. Scouting is for boys and girls ages 5-20.
The event is completely free, but please register so we have enough supplies!
For more information about making Scouting part of your family's future, contact:
West Oahu: Stanton Oishi • Stanton Oishi@scouting.org • 380-5432
East Oahu: Bonnie Leong • Bonnie.Leong@scouting.org • 380-5433
When & Where
Fishing Adventures - RSVP NOW!Sand Island State Recreation Area
Saturday 08-24-2019 9:00 AM HT to 1:00 PM HT
Past
---
Waialua - Waialua Community AssociationWCA Haleiwa Gym
Friday 09-13-2019 5:30 PM HT to 7:30 PM HT
Past
---
Nuuanu - Nuuanu Valley Park / Aloha CouncilNuuanu Valley Park
Saturday 09-14-2019 12:00 PM HT to 3:00 PM HT
Past
---
Kailua - Maunawili Valley Neighborhood ParkMaunawili Valley Neighborhood Park
Saturday 09-21-2019 12:00 PM HT to 2:00 PM HT
Past
---
KapoleiBushwacker's Archery Range
Saturday 09-21-2019 2:00 PM HT to 5:00 PM HT
Past
---
Hawaii Kai - Koko Head District ParkKoko Head District Park
Saturday 09-28-2019 12:00 PM HT to 2:00 PM HT
Past
---
MililaniCornerstone Fellowship
Saturday 09-28-2019 2:00 PM HT to 5:00 PM HT
Past