OA 2020 Lodge Leadership Development, Banquet & Vigil Induction
Event Details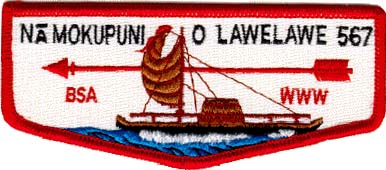 Lodge Leadership Development is a training seminar designed to enhance the leadership potential of the lodge's Arrowmen, providing an experience in dedication and fellowship. Put on once a year by lodge officers and advisers, LLD has classes which offer training for a variety of OA-specific roles. All Arrowmen should attend, especially lodge and chapter officers. This is a great opportunity to get involved with the future of our lodge and development of our chapters as we seek to provide a quality experience in the Order of the Arrow to all of our members.
A Brotherhood conversion will be available Friday night for anyone who has been an Ordeal member for at least six months. Please arrive at camp no later than 8:00 PM, especially if coming from neighbor islands.
The annual Lodge Banquet on Saturday at 6:00 PM is a gathering to recognize the recipients of Vigil Honor and Founder's Award, as well as talk story with members from all our islands.
FRIDAY
5:00 PM - 6:30 PM Staff Arrival
7:00 PM - 8:00 PM LLD Registration
8:00 PM - 8:30 PM Brotherhood Candidate Orientation
8:30 PM - 10:30 PM Brotherhood Induction or Movie Time
10:00 PM - 10:45 PM Cracker Barrel
11:00 PM Lights Out
SATURDAY
7:00 AM Wake Up
7:15 AM Flag Ceremony
7:30 AM - 8:15 AM Breakfast
8:15 AM - 9:00 AM LLD Registration
9:00 AM - 10:00 AM Introduction
10:00 AM - 10:45 AM Unit Election Training
11:00 AM - 11:45 AM Unit Relations
12:00 PM - 1:00 PM Lunch
1:00 PM - 1:45 PM Retaining Members
2:00 PM - 2:45 PM Induction (Ordeal & Brotherhood)
3:00 PM - 3:45 PM Event Budgeting/Tomahawk Throwing
4:00 PM - 5:30 PM Shotguns/Set Up For Lodge Banquet
5:45 PM Flag Ceremony
6:00 PM - 8:00 PM Lodge Banquet/Registration
8:00 PM - 10:00 PM Arrow of Light Ceremony (Fire Bowl)
10:00 PM Vigil Induction Event Start
11:00 PM Lights Out
SUNDAY
7:00 AM Wake Up & Vigil Induction Event End
7:00 AM - 9:00 AM Vigil Staff Clean Up/New Vigil Members Rest
9:00 AM - 10:00 AM Set Up For Vigil Banquet/Vigil Members Meeting
10:00 AM - 11:00 AM Vigil Banquet/New Vigil Members Public Recognition
11:00 AM - 12:00 PM Clean Up and Depart
---
All Vigil Honor members are invited to attend the 2020 Vigil Induction event to help support the Vigil Honor candidate class of 2019. There will be a Vigil Call-Out ceremony to publicly recognize the selected Vigil Honor candidates at the lodge banquet on Saturday night after the Lodge Leadership Development. Once the lodge banquet ends on Saturday night, the Vigil candidates will be given time to prepare for the Vigil Honor induction and will be taken down to the induction event later that Saturday night (around 10:00 pm). Vigil members will be given time for fellowship and to discuss how Vigil members can help support the lodge as leaders during the induction event.
There will then be a public recognition ceremony on Sunday morning at breakfast (around 10:00 am) where the newly inducted Vigil members will be given their Vigil certificates and insignia to symbolize their attainment of the highest honor the Order of the Arrow and a lodge can bestow on an Arrowman. Other Arrowmen or guests who are not Vigil Honor members are welcome to camp overnight and attend the public recognition ceremony on Sunday morning to celebrate with the newly inducted Vigil Honor members. However, only Vigil members can attend the Vigil induction event itself.
Vigil candidates and ceremony participants are strongly encouraged to arrange transportation home after the event as the national safety guidelines suggest.
Please note that registration for this event is connected to the Lodge Leadership Development and Lodge Banquet event. If you would like to attend both events, make sure to register through the LLD black pug event link and you may attend the Vigil event as well (there is no cost to the Vigil event as the LLD event cost includes that). If you would like to just attend the Vigil Banquet on Sunday morning at 10:00 am and/or the Vigil induction event, please let us know.
If you have any questions about this event, please contact the Vigil Adviser, Elliott Park, at 808-356-9312 or honuinju@gmail.com. This is a call to all Vigil Honor members who are interested in helping the lodge in any capacity and/or to support the Vigil Honor candidates. Hope to see you there!
When & Where
2020 LLDCamp Pupukea
Friday 02-28-2020 6:00 PM HT to
Sunday 03-01-2020 12:00 PM HT
Past