Event Details
Register by March 24 to order T-Shirts and buy Meal Plans!
Early Bird Pricing Available
Registration Closes 2 Weeks Prior to Event
Calling all Cub Scouts and their families! Greater Tampa Bay Area Council's annual Splash-O-Ree will be held at three GTBAC camps this year. We will also be offering of Splash-O-Ree over two weekends! We are working on this year's theme and it will be a fun experience for Scouts and their families. Saturday will be filled with Cub-friendly activities where the Scouts get wet!
Come for the day or camp for the entire weekend with your family and pack! Your registration makes that possible, and the optional meal fee (full details below) will cover Saturday meals and Sunday breakfast.
We look forward to seeing you at Splash-O-Ree!
Different Camps - Different Experiences
All of our camps have plenty of room to spread out our campers. Please register early to guarantee your spot. Here are the camp locations:
Camp Soule - (Clearwater) – 200 Youth Participants
Sand Hill (Brooksville) – 300 Youth Participants
Flaming Arrow (Lake Wales) – 300 Youth Participants
Dates
April 14-16, 2022 - Weekend with camping at Camp Soule. Early registration ends March 17.
April 21-23, 2022 - Weekend with camping at Sand Hill Scout Reservation and Flaming Arrow Scout Reservation. Early registration ends March 17.
T-Shirt Ordering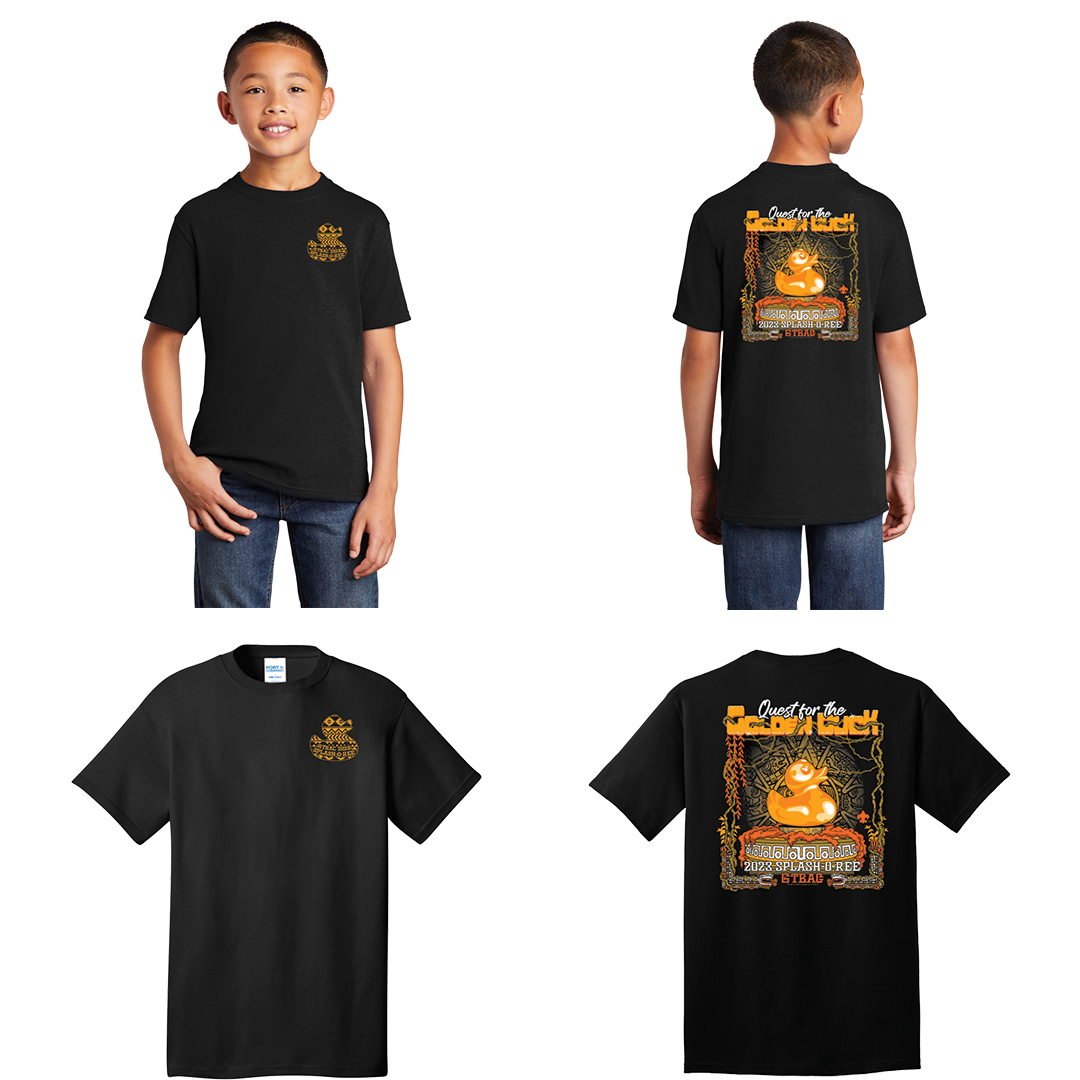 T-shirts will be available for pre-order only; you must order by March 24. Shirts will be available at the camp for pick up. Shirt pricing is: $15 short sleeve, $18 long sleeve and $28 for hoodies.
Pricing
Early Bird Pricing (Ends March 17th)
$28 Youth
$20 Adults
Siblings under 5 free
Full payment due by March 24th to receive the Early Bird Rate
Regular Pricing
$33 Youth
$25 Adults
The optional meal plan costs an additional $25
Who Can Attend
All registered Lions, Tigers, Wolfs, Bears, Webelos, and Arrow of Light Cub Scouts are encouraged to attend so long as they have at least one parent or guardian who can attend with them. Other family members are welcome to attend, but their participation in events will be limited. If you are from out of council, feel free to join us!
Meal Plan
To make the weekend easier for you and your family, a meal plan option is available at select camps. All meal plans must be pre-purchased. No substitutions are available. Just $25 for the weekend will get you the following meals; the menu will be posted closer to the camp date:
Saturday Breakfast
Egg Bake, Biscuits, Fruit Cup
Saturday Lunch
Ham and Cheese Sliders, Baked Beans, Chips, Celery and Carrot Sticks, Cookies
Saturday Dinner
BBQ Chicken OR Pulled Pork, Mac and Cheese, Mexican Street Corn, Salad Bar, and Dessert
Saturday Cracker Barrel - Chef's Creation
Sunday Morning
Continental Grab and Go Breakfast
Dietary Restrictions
The Greater Tampa Bay Area Council recognizes that there are many potential dietary restrictions as well as common diets (e.g., low-calorie and low-carbohydrate) and common food allergies (e.g., to gluten, citrus fruit, dairy, eggs, fish, nuts/ peanuts, and shellfish). Individuals will need to consider this and avoid such items in their choices in the dining hall. In addition, remember that the Food Team cannot feasibly plan for all specific dietary needs of all persons attending the event. Therefore, all special dietary needs must be indicated at the time of registration. Depending upon the special food requirements they may be asked to make their own arrangements to meet those needs by bringing their own food — just as they would bring their own medications. Any dietary requests made within 2 weeks of the event will not be able to be honored.
Volunteers
Please contact your camp director for the password to register as a volunteer. If you would like to volunteer and do not know the camp director, please contact David Gaul at: david@navfl.com.
When & Where
SouleCamp Soule
Friday 04-14-2023 6:00 PM ET to
Sunday 04-16-2023 12:00 PM ET
---
Flaming ArrowFlaming Arrow Scout Reservation
Friday 04-21-2023 6:00 PM ET to
Sunday 04-23-2023 12:00 PM ET
---
Sand HillSand Hill Scout Reservation
Friday 04-21-2023 6:00 PM ET to
Sunday 04-23-2023 12:00 PM ET