Event Details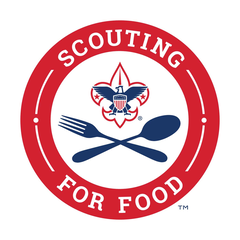 As scouts, we know how fortunate we are to have a warm meal every night — whether around the campfire or at the kitchen table. And we know that not everyone is so lucky. Scouting for Food is a food-collection drive where scouts get out into their neighborhoods and collect food items to be delivered to families in need. It's another reminder to our local communities that scouts are here, doing good turns.
Event Information:
Between the dates of January 9, 2023 and February 11, 2023, scouts distribute door hangers to local homes in their community to let them know about the drive.
On or before February 12, 2023, scouts will revisit those houses to pick up bags full of canned food, cereal, pasta, peanut butter, juice and other nonperishable items. The food is then delivered to food banks across the district. If your unit does not have a food bank to distribute the food to, then please contact your district lead for food bank options in your area.
Important Information:
Door hangers will be available starting Monday, January 9 to pick up from each district's leadership or from the council office. Emails will be sent out to registered units once door hangers are available for pick-up with information about how and when to pick them up.
Please record what houses are visited with the door hangers to ensure every home is revisited to collect food on or before Saturday, February 12, 2023.

After each unit delivers food to a local food bank, record unit and individual scout participation. Record your success through this link: https://forms.gle/b7r8B8Uoi21zTC37A
Each district has identified several food banks for you (see attached "Food Pantry Locations" list for addresses and hours of operation). If you plan to take collected food to another location not listed, please check their hours of operation and capacity. When you report your success to council, make sure to include where the food was delivered.
Special Opportunity:
Our Scouting for food chair, Chris Perry, is planning a special awareness hike from Tampa to Lakeland during the campaign. This will be a great opportunity for food drop off, for scouts and leaders to join in the hike or a portion and for media coverage of this campaign. More details to come but contact Chris with your thoughts and ideas.
Questions/comments/concerns? Check out the attached "Scouting For Food Best Practices" page and/or contact your District Lead:
Fort Brooke
Michelle Perry

faheymichelle@hotmail.com

Lake Region
Rebecca Ibarra

hardeebsa@gmail.com

Miccosukee
Gina Nunez
metroswimmer@gmail.com
Timucua

Jim Sonneborn

Megan Jones

jdsonneborn@gmail.com

drmljones@hotmail.com

Skyway
Gina Nunez
metroswimmer@gmail.com
Suncoast

Amanda Beiter

cramis77@hotmail.com

Thunderbird
Garrick Johnson
garrick.k.johnson@gmail.com
Withlacoochee
Pauline Zerbe
nlzerbe@aol.com
Pathfinder
Trisha Winscott
trisha.winscott@scouting.org
Council
Chris Perry (Scouting for Food Chair)
Christopher.Perry@BayCare.org
Council
Jeremy Twachtman (Professional Advisor)
Jeremy.Twachtman@Scouting.org
When & Where
Scouting for Food
Greater Tampa Bay Area Council Lewis H. Hill Scout Center
Monday 01-09-2023 9:00 AM ET to
Sunday 02-12-2023 12:00 PM ET