Event Details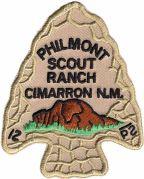 2024 Council Philmont Contingent
It is every Scout's dream to experience the ultimate camping experience and THE outdoor adventure of a lifetime. Individual Scouts are encouraged to register. This is a great opportunity for a Scout to get a chance to go to Philmont if his Troop is not able to attend in their own crew.
The Council is offering an expedition to Philmont Scout Ranch from June 17 th, 2024 through June 29 th, 2024. (Our dates are now confirmed for our Council Contingent number 617-201, however the travel time(s) will be confirmed, once our flight(s) are set with the airline/van services).
Philmont is BSA's High Adventure backpacking base in the Sangre de Christo range of New Mexico in the southern Rocky Mountains. Participants will backpack more than 50 miles in the back country of New Mexico, participate in unique programs and have a once-in-a-lifetime experience. Our contingent is limited to 32 youth and 16 adult leaders so apply early. Scouts who have finished the 8th grade or are 14 years old at the time of departure can attend.
Trek Dates
June 17 to June 29, 2024
Pricing
The TOTAL COST which includes Philmont, airfare and bus transport fees is:
Youth Participant $2,750*
Adult Participant $2250*
*This round trip cost is estimated, subject to an increase based on any airfare and bus transportation costs
Deposit - $250 Due August 20th
Payment 1 - $325 Due August 25th
Payment 2 - $325 Due September 25th
Payment 3 - $275 Due October 25th
Payment 4 - $275 Due November 25th
Payment 5 - $275 Due December 28th
Payment 6 - $275 Due January 25th
Payment 7 - $275 Due February 25
Payment 8 - $250 Due March 25th
Payment 9 - $225 Due April 25th
Out of Council Fee - $100
Those interested can register at ANY time! If you need more flexibility with payment due dates please contact Christine Chansley, the Council Volunteer Support Coordinator at christine.chansley@scouting.org
When & Where
Philmont Scout Ranch
Monday 06-17-2024 12:00 AM ET to
Saturday 06-29-2024 11:59 PM ET