Miccosukee District Dinner 2023
Event Details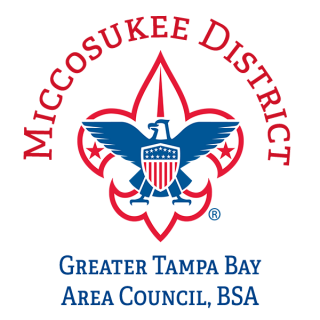 Come join us as we celebrate the successes of 2022 and recognize some incredible volunteers who serve our local youth! Dinner will be provided.
Location: Dining Hall Camp Soule (2201 Soule Rd, Clearwater)
Who Can Attend: Open to all members of the community. We are honoring Eagle Scouts and Volunteers of Miccosukee District.
Dress: Business Casual or Scout Uniform
The Miccosukee District celebrates all adults involved in the Scouting program by graciously accepting nominations at various levels: Pack, Troop, Crew, District, and Ship Leadership. This consolidated form can be used for a single nomination at any level. Nominations are due by April 15th, 2023 – One Form per person please.

All Nominations will be reviewed by the District Committee and awards will be presented at the District Awards Dinner on May 3rd 2023 at Camp Soule.
The online form will allow you to nominate someone for one of the following awards.
Cubmaster, Skipper, Advisor, Scoutmaster, or District Member of The Year

Assistant Cubmaster, Assistant Skipper, Assistant Advisor, or Assistant Scoutmaster of The Year

Unit Committee Member of The Year

District Member of the Year

Unit Pillar of the Year*

Spark Plug Award*
Unit Pillar Info: The Unit Pillar is a registered adult who has continued to render invaluable service to a unit. A "true scouter who signed up for their own scout, but is still here for yours." This individual currently has no youth registered with his/her unit.
Spark Plug Info: Each unit in Miccosukee District may designate one adult to receive the Spark Plug Award. The recipient may be anyone involved in the unit's operation or program. Recipients typically have contagious enthusiasm, and they are that spark that gets the unit going. This is a great opportunity to recognize a new leader or parent that has potential to become an integral part of Scouting. Each unit should receive one Spark Plug Award.
Nominations are open! Head over to this online form to submit someone for a District Award https://forms.gle/et6kit6atUCRSq9w5
When & Where
Camp Soule
Wednesday 05-03-2023 6:30 PM ET to 9:00 PM ET
Past