2024 Northern Tier Contingent
Event Details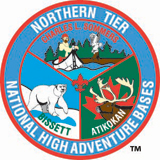 Northern Tier Canoe Trek
Join the GTBAC Contingent on this wilderness canoe expedition in the wilderness backcountry of Northern Minnesota
The flagship base of Northern Tier, the Charles L. Sommers Canoe Base has hosted Boy Scout canoe expeditions on the shores of Moose Lake since 1941. Located twenty miles outside of the town of Ely, MN, the Sommers Base outfits over 4,000 Scouts each year on wilderness canoe trips in the Boundary Waters Canoe Area Wilderness (BWCAW) in Minnesota and the Quetico Provincial Park in Ontario.
Northern Tier equips each crew with the necessary outfitting needed and a private interpreter to ensure their trip is a success. The Interpreter works alongside the crew and its youth leadership to make it a youth led experience and teaches them the skills they need to succeed in the wilderness.
Canoe camping is an experience similar to backpacking but instead of using backpacks, crews use specially made packs that fit the canoes they use for transportation. From there they travel deep in the wilderness exploring and learning along the way.
In order to be eligible to go on the Northern Tier Contingent, Scouts attending must be age 14 by June 5th, 2024. Adults (male and female) 18 to 20 years old are considered youth participants.
Trek Dates
June 5th - June 12th, 2024
Pricing
The TOTAL COST which includes Northern Tier fee and transportation fees is:
Youth Participant: $2250*
Adult Leader: $2000
*This round trip cost is estimated, subject to an increase based on any bus transportation costs
Deposit - $250 Due August 20 31st ($200 for adults)
Payment 1 - $225 Due August 31st
Payment 2 - $225 Due September 30th
Payment 3 - $225 Due October 31st
Payment 4 - $225 Due November 30th
Payment 5 - $225 Due December 31st
Payment 6 - $225 Due January 31st
Payment 7 - $225 Due February 29th
Payment 8 - $225 Due March
Payment 9 - $225 Due April (adults do not have a Payment 9)

Out of Council Fee - $50
*Adult Leaders Pay a $200 deposit and have no Payment 9
Those interested can register at ANY time! If you need more flexibility with payment due dates please contact Christine Chansley, the Council Volunteer Support Coordinator at christine.chansley@scouting.org
When & Where
Northern Tier
Wednesday 06-05-2024 12:00 AM ET to
Wednesday 06-12-2024 11:59 PM ET